Compiled by Avinash Yadav
Renders: Courtesy Mecanoo
Read Time: 2 mins
.
Mecanoo architects and circular-furniture specialist, Gispen conceptualise a modular and flexible train interior that facilitates travellers' diverse activities - sustainable mobility that can be universally replicated…
When NS (Dutch National Railway Company) was weaving the fabric of a futuristic train, it drew the basic threads from every traveller and his unique journey – a sentiment that is very vital, especially in a service industry that is highly motivated and driven by consumer experience.
Every traveller and every journey is unique. Mecanoo and Gispen, in association with NS, mapped train passengers' activities. Based on this research, they define six activity zones ranging from open and social to private and concentrated.
Modules
Twelve furniture modules in varying arrangements differentiate travellers' activity zones. These modules include both, current and new train interior elements and configurations.
A dynamic travel landscape is created with various seating, 'stit' (sit-stand or leaning) and standing places, where every
traveller
can find a place that suits him depending on his activity, travel time, group size, luggage,
and
required facilities.
The train of the future will be a dynamic, open environment that permits all kinds of passenger activities.
The train isn't just a tube that you travel in from point A to point B - Arne Lijbers, Mecanoo.
Applying a modular grid allows every centimeter to be used and the modules fit into the trains like building blocks
Social zone: entrance area.
With this flexible twelve-module furniture system, a suitable combination can be made for every type of train for an optimal travel environment. The elements have a completely circular production model. The fabrics are reusable, the modules can be easily disassembled and are interchangeable.
It is comfortable, accessible and welcoming to everyone - qualities that resonate with Gispen's experience in furniture making and with Mecanoo's experience in architecture and interior design. The result is an innovative train concept that makes travelling a whole new experience, unique to every traveller.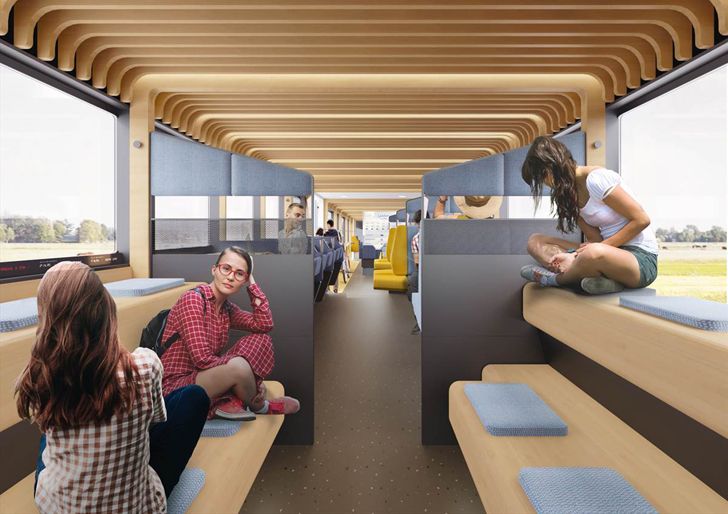 Relaxation zone
Relaxation zone: Middle coach, lower level.
First class
The train of the future will let you get more out of your day, for example, because you are able to work undisturbed. It will turn journey time into working time. Or time for reading, chatting or chilling out. The train makes it all possible – it's the passengers who decide." explains Tjalling Smit, NS Executive Board member.
So, get ready for a sustainable journey into the future - in more ways than one!