Compiled by Rutvi Ashar
Renders: Shanghai Cenby Digital Technology Co. Ltd
Read Time: 2 mins
Proposed salon in the National Library of Taiwan (inset) Ar. Carlo Ratti
Expected to greet the public in 2023, Bio-architecture Formosana (BAF) together with Carlo Ratti Associatti (CRA) present the National Library in Taiwan, which hopes to transform a large undeveloped suburban plot in XinYing District.
Selected as the winner of nine competitions, the design of the new public building, commissioned by the National Central Library proposed by BAF x CRA is an open and transparent space. Doing away with the idea of a traditional, monumental library, this 51,000 sq. m. space is envisioned as "rooms of knowledge" that define the contemporary role of the library as a less-formal, more-interactive hub.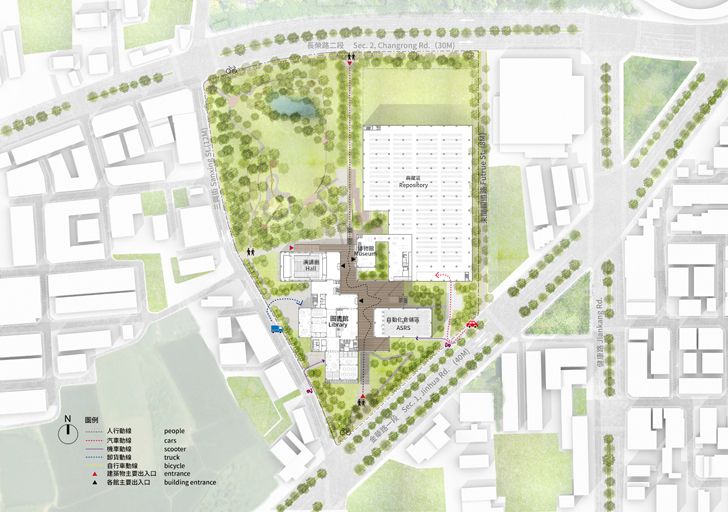 Site plan
.
Diagram statement
Located in a town of about 80,000 inhabitants and home to many Tainan City government offices, the site sits amidst housing, a municipal swimming pool and stadium. The facility aims to boost activity within the southern community by accommodating spaces such as a library, event hall, museum and repository - all of which are linked through the main axis connecting the north-south sides of the site, smoothly bringing people into this library town.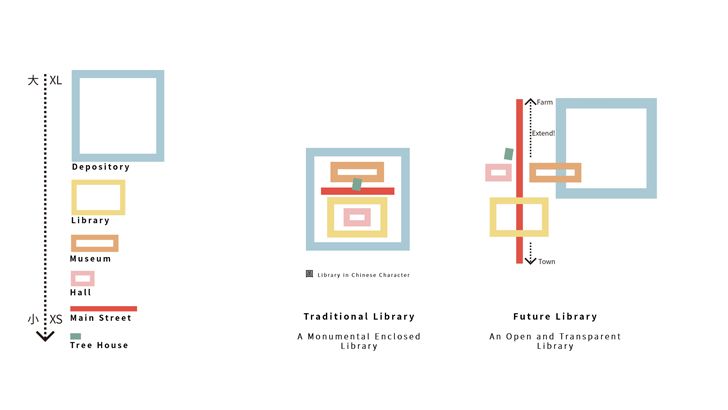 Design concept
To seamlessly flow into the community, three main ideas drive its creation: integration with nature, openness of learning and "museumisation" of the library. As the 5.7 ha site has an existing ecosystem, the designers chose to preserve almost 90% of the trees, including the golden shower tree boulevard, which is a landmark to community, thus planning the built environment to coexist harmoniously with the surroundings. The space caters to new-age learning such as co-learning, open-source-data-sharing and digital networking. Hence, the design accommodates "The Salon": an interactive, flexible space for learning and events, which redefines the traditional "see-the-books reading room" idea. In addition, "The Agora" under the solar canopy is a response to the hot and humid town to provide shade and harness energy.
.
.
.
While the concept of "Library as a Town" is inspired by the humbleness of the context, BAF x CRA have a design response that disrupts the idea of a conventional library. Using the technology of the times, they automate various features of the library experience while retaining the feel and smell of a modest book!
Client: National Central Library
Design Lead: Bio-architecture Formosana (BAF)
User Experience: Carlo Ratti Associati (CRA)
Museum Specialist: Prof. Chen Jeng Horng of National Cheng Kung University Museum
Built-up Area: 51,000 sq. m. (5,48,959.40 sq. ft.)
Location: Xinying, Tainan City, Taiwan