Compiled by Team IAnD
Photography: Courtesy Make Architects
Read Time: 2 mins
.
After open and collaborative workspace culture, education now follows a flexible and personalised methodology…
The University of Nottingham has just added a Teaching and Learning Building (TLB) to its award-winning, nationally recognised University Park campus. The USP of the building is in the make-up of its interior spaces that deliberately blur the boundaries between study, socialising and work.
Capable of accommodating up to 2,500 students at any time, the building includes a broad range of teaching and learning environments from a double-height learning hub with a mezzanine for quieter, informal learning and peer mentoring, as well as drop-in desks, shared tables and private study rooms, to reconfigurable teaching rooms, a lecture hall with raked seating and small group discussion rooms. It also has a performing arts space and several social learning and breakout areas with views out across the campus.
.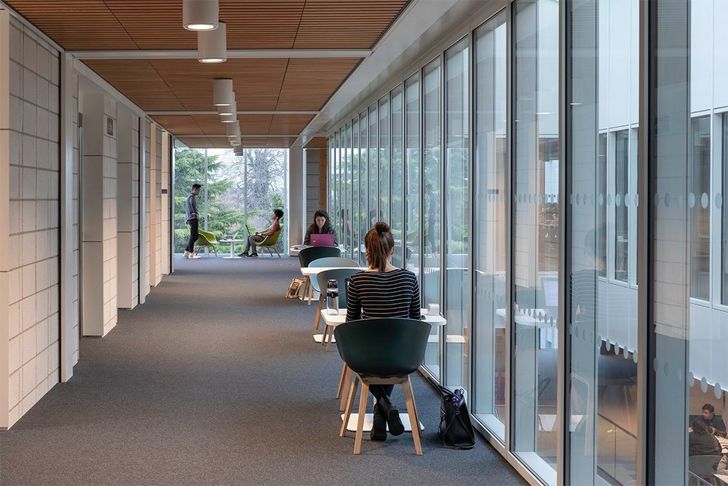 .
Designed following a participative approach involving academicians and students to ensure it would meet the needs of the users, it has a flexible framework with column-free floorplates that can be reconfigured by adding or removing internal partitions; generous breakout areas with multiple functions; and movable furniture that lets students and teachers define their own interactive spaces.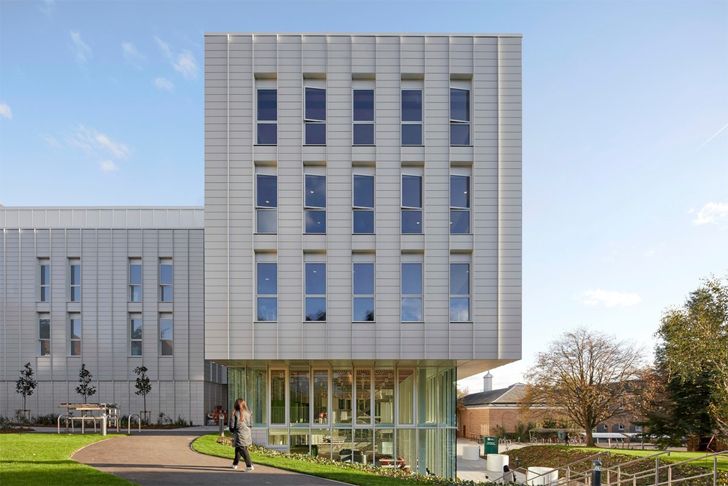 .

Connectivity is a key focus of the design, both internally and campus-wide as entrances are located to pick up on key pedestrian routes to maximise permeability and provide accessibility from 360 degrees. A clear, simple massing and layout ensures that the adjacent buildings and trees are not compromised. Internally, the routes converge on a central light-filled atrium space—a space for socialising, learning and meeting. The more informal learning and social spaces are located around the perimeter of the building and are designed to promote well-being by offering views of the campus landscape and mature trees.
.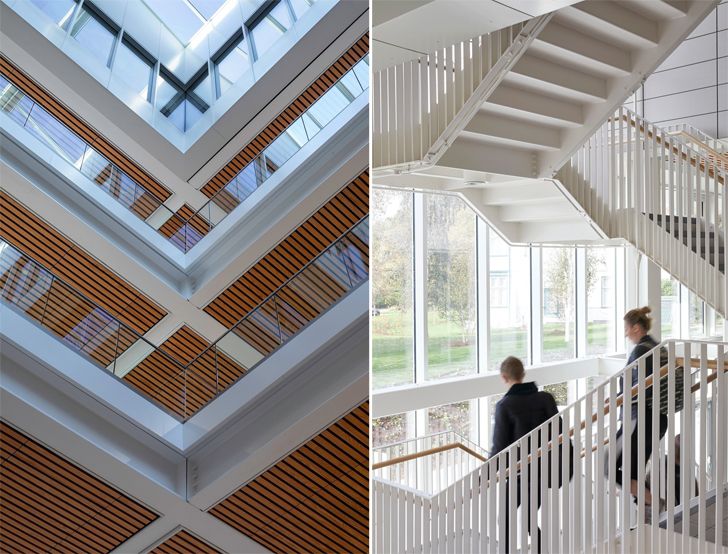 .
Sustainable measures are adopted, and materials are chosen for their longevity and simplicity. Externally, the building's upper level is clad in architectural terracotta with a robust base/plinth of architectural masonry. Blurring the distinction between inside and outside, these materials continue within and are complemented by a steel frame. Exposed concrete lends a simple distinctive appearance, with exposed cross-laminated timber adding tactile warmth.
The building plays a large part in personalising students' learning experiences, providing a range of tech-enriched spaces to enable students to become more active partners in their own education.
Client: University of Nottingham
BREEAM rating: 'Excellent'