By Vinita Wagh
Photography: Gustav Willeit; courtesy the designer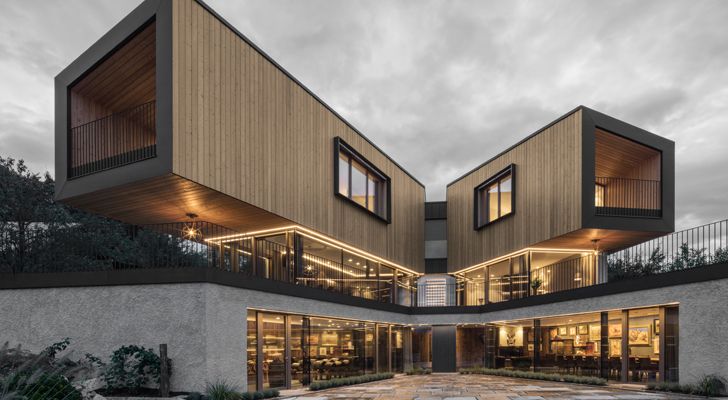 .
Against the spectacular skyline of the Alps, Stefan Hitthaler Architektur unveils the Rubner House, that sits poised on a Tyrolean Farm, a 'Maso'.
A modern take on a typical South Tyrol house, this winning proposal articulates the strong lines and dramatic angles that compose the form. By pairing a solid concrete basement with wooden upper floors, the design reinterprets the traditional Alpine house that is contemporary in style and yet keeps to its roots. The bountiful, picturesque and mountainous canvas drives the design to consider the site's connection to the ranges at every juncture.
.
.
.
.
The house is set into the slopes of the hill, with one floor below ground and two above. The angular, mirroring volumes offer a dynamic visual perspective from the outside. The vertical placement of louvers and wooden battens on the upper façade balances the illusionary horizontality of the structure that arises from its angular disposition. From the inside, large glass facades frame views to the landscape. The wooden volumes supported on steel pillars appear to float atop the glass enclosure and cantilever over the deck while each of the four rooms within sports a terrace that faces the nearby mountains. The seemingly intersecting geometric volumes coupled with a play of levels adds to the buzz.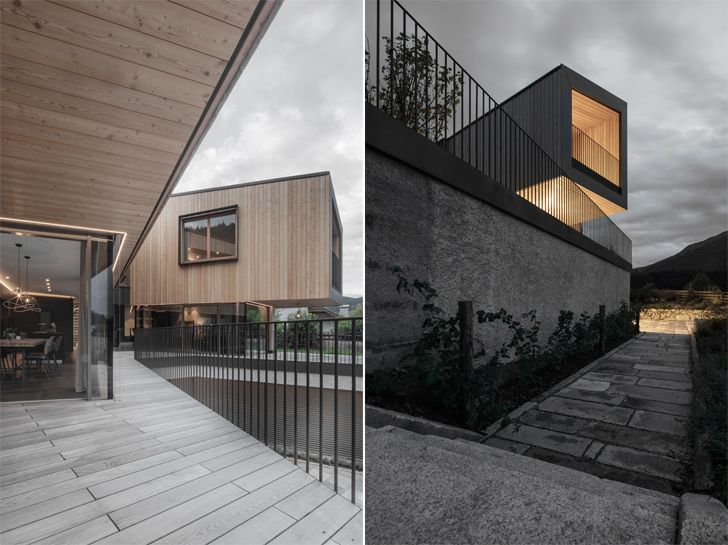 .
.
With a contrasting material palette of rough plaster, steel, wood and concrete, the house reflects the distinctive character of the terrain beyond in equal parts - elegant and rugged.
.
Design Firm: Stefan Hitthaler Architektur
Principal Designer: Stefan Hitthaler
Built-up Area of project: 675,22 sq. m.
Carpet Area of project: 3602,49 sq. m.
Location: Chienes, South Tyrol, Italy