By Vinita Wagh
Photography: Courtesy Sasaki
Read Time: 2 mins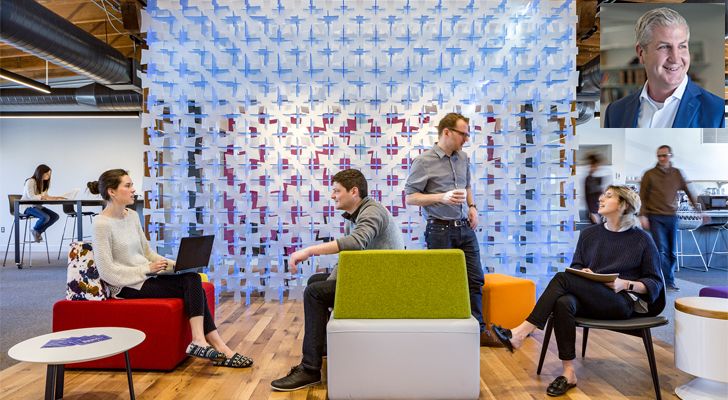 Incubator at Sasaki (inset) James N. Miner-CEO-Principal-Planner, Sasaki
Sasaki Design Studio engineers their design Incubator with a lively and peppy vibe to spur creative thinking…
Located within their riverfront campus at Watertown Massachusetts, this 5000 sq. ft. space is home to their interdisciplinary thinktank – researchers and innovators who collaborate with the design studio to reconcile the academic-industry gap, working on the interlaced problems of the built environment. Under the Sasaki Foundation leadership, the incubator galvanizes public programs, research initiatives and team tie-ups under one roof.
.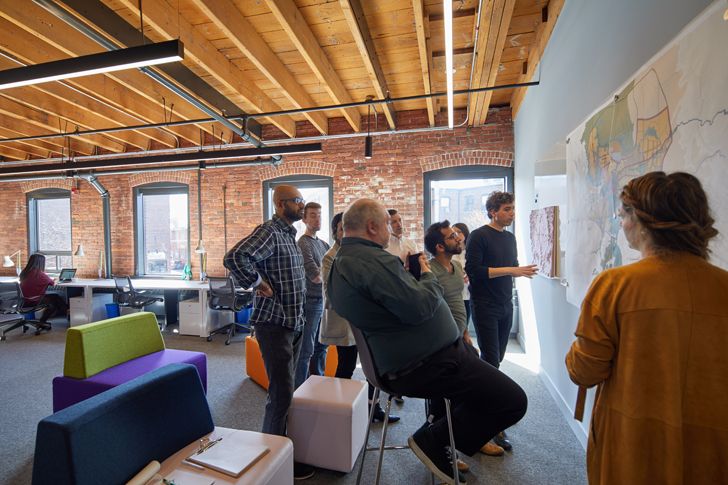 .
Rightfully, the space mirrors the ambitions of such a synergetic initiative. Styled to energise and channel the idea-sharing spirit, the space is bright and airy, and borrows historical charm from the old mill building it is situated in. With natural light filtering in from the large windows and clerestory, the open floor plan accentuates the structural elements that frame the space – the brick walls and the wooden columns and beams.
.
.
The central lounge is the nucleus of the incubator, dotted with colourful, modular seating – a space that is fluid and can make room for a variety of functions, foster individual interactions and large public conjunctions. Adjoining it, the nave-shaped space on either side houses the workstations for independent tasks and team projects. Tucked in this plan are also two conference rooms, two phone rooms and a large open kitchen. The partition walls exhibit installations as well as pinned-up work.
.
.
Embracing the right balance of formal and informal, old and new, bold and quirky, this space is a versatile canvas that is stimulating and inclusive – a modern workplace that empowers its users to connect, collaborate and experiment to expand the limits of their practice.