By Vinita Wagh
Photography: Courtesy the architect
Read Time: 2 mins
.
Rising like a beacon against the Valencia sky, the Kouros Tower by Fran Silvestre Arquitectos draws the eye along its graceful curves and sinuous silhouette…
Inspired by the Greek Kouros - ancient free-standing sculptures, the mixed-use tower stands tall positioned atop a podium. The proposal aims to craft a timeless structure that adapts and builds on its contextual physical conditions, yet one that is born out of innovation and continual metamorphosis. Reflected through the composition of its façade, the tower is symbolic of the passage of time observed in the context of the city.
.
.
.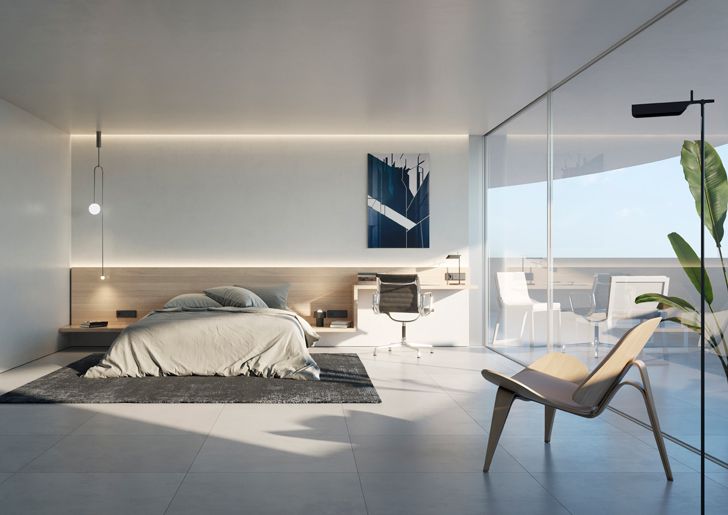 .
The commercial and common recreational areas find their place on the lower podium levels with a vertical core that connects the two towers as they rise. Keeping the rhythm of the façade intact, the curved geometry incorporates technical plans through orthogonal layouts that guide the arrangement of six dwellings per floor.
.
.
Terraces formed between these orthogonal layouts and the circular floor facilitate deep recreation spaces with large overhangs that provide solar protection and a thermal buffer. These spaces allow for the cleaning and maintenance of the exterior facade, a convenience that economises the proposal.
.
Secured to the main bearing structure through a ventilated façade system, the façade is a solid surface that wraps around and adapts to the building geometry without the need for thermoforming. This construction system thereby reduces upkeep - a favourable quality in high rise buildings. The design also features attics that fall in line with the required setbacks, and the two roofs serve as communal spaces, one private for the attics and the other, common.
With a clean form that organises itself around a rigid core, the result is a simple, stunning structure whose materialisation stems from its floor distribution; its smooth form, orientation and soft edges balances with the surroundings, evoking and enabling a sleek perception.
Architecture: Fran Silvestre Arquitectos
Interior Design: Alfaro Hofmann
Principal in Charge: Fran Silvestre