Compiled by Team IAnD
Photography: Daici Ano; courtesy Labvert
Read Time 2 mins
Legendary German luggage manufacturer Rimowa opens doors to its flagship at Ginza, Tokyo mesmerising a modern outlook judiciously seeped in traditional attributes…
Tokyo's Ginza district is famous for its fine department stores and luxury brands. Last week saw the opening of the 500 sq. m. Rimowa flagship store located centrally in this district.
Designed by Stephan Vary of the Architecture and Design Studio Labvert, the store landscape underlines the high-quality Western design of the suitcases by harmonising it with Japanese cultural nuances, inviting the customer to embark on a sensual journey of discovery.
Inspired from Japanese rock gardens - especially the famous Zen garden Ryoan-ji, the store is deliberately minimalist, with sweeping, dynamic lines running through its expanse, broken interestingly by large floor-to-ceiling basket-like room dividers.
.
.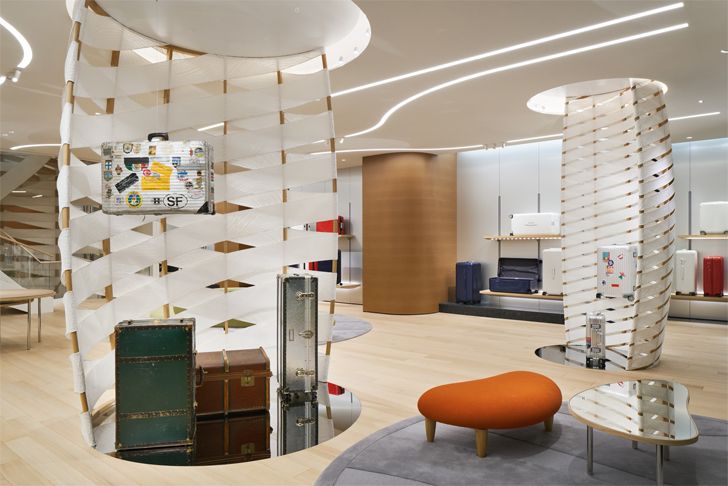 .
.
Made from intricate braids of filigree oak wood slats and handmade Japanese paper (washi), these room dividers borrow their idea from the traditional Japanese shoji made of bamboo and translucent paper. They connect the two floors vertically; each creating a point of attraction within the store.
As a continuation of the flowing lines, a sweeping staircase leads to the upper floor that plays host to the Client Care Centre – a cosy ambience with stylish seating. An in-store workshop separated by a large glass wall allows customers full insight into the craftsmanship of the suitcase manufacturers, including their premium line of personalized designs. A heritage galleria that panders to vintage models from the 120-year history of the suitcase brand is yet another attraction.
Overall, the store creates a chic, inviting, bright and minimalistic aura, where subtle contrasts between flowing and angular, as well as different materials such as warm wood to cool metal, charmingly communicate modernity amidst selected quotes from the rich cultural heritage of Japan. And in this milieu, bespoke to the location and the synergies of Japan, is highlighted the focused presentation of the well-known Rimowa suitcases.
Client: Rimowa Japan Co., Ltd.
Principal Architect: Stephan Vary
Local Architect: Higo Design Associates
Gross floor area (ground floor + upper floor): 507 sq. m. (5,457 sq. ft.)