By Rutvi Ashar
Photography: Andrey Avdeenko; courtesy the architect
Read Time: 2 mins
.
Sergey Makhno Architects bring their love for Japan to Ukraine via a maze-like Japanese restaurant, carefully balancing the outlook of the city folk with the nuanced culture of a foreign land…
Steering away from clichés, Sergey Makhno Architects work closely with chef Fujiwara Yoshihiro to design an elegant, 800 square metre, titular restaurant in Kyiv, Ukraine - the space emboding the story of its founder-chef Fujiwara Yoshihiro, who discovered his purpose of living in the city.
.
.
The 250-seater restaurant is like a young Japanese man who is determined to serve Japanese culture while flirting with a charming Ukrainian soul.
.
Exquisite oriental style and minimalism vies for attention with natural materials namely wood and travertine amid neutral shades like grey and buff that speak of Japanese interior design trends. Panoramic windows flood the well-designed labyrinthine layout of the restaurant with natural light throughout the day.
.
.
.
Artistic lamps especially custom-designed by Sergey Makhno bring the space to life, serving both - aesthetic and functional needs. It is refreshing to see the designer reach out to the visiting diners via the lighting – calling their attention to minute details in the interior architecture: be it the large Fuji lamps, laconic ceramic Runa or the floor lamps made in the form of chasens (a whisk for Matcha tea), all strategically mounted to craft out chiaroscuro elements in synchrony.
.
.
Landscaping via bonsais sourced from Japan, ikebana arrangements and moss platters adds to the refinement and charm of the vast decor, synonymous with Japanese interiors, and continuing across the floor plate viz., the sushi bar, tatami rooms, terrace garden and a large banquet hall. The romance of Japan is further reinstated with wooden floors, lightweight Shoji and poetic stone slabs.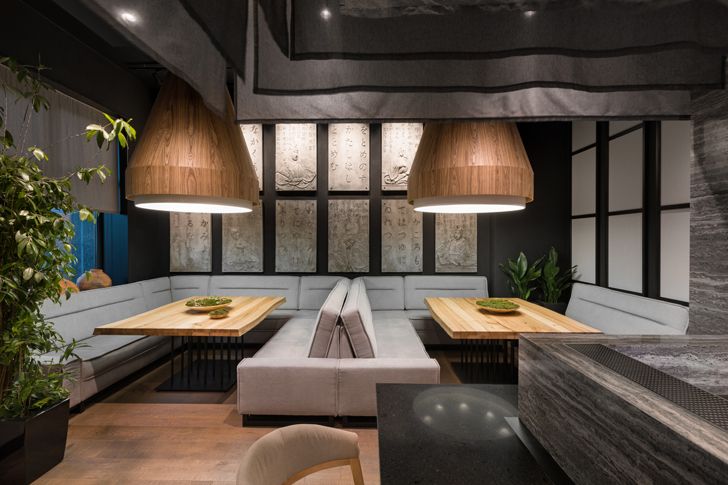 .
.
.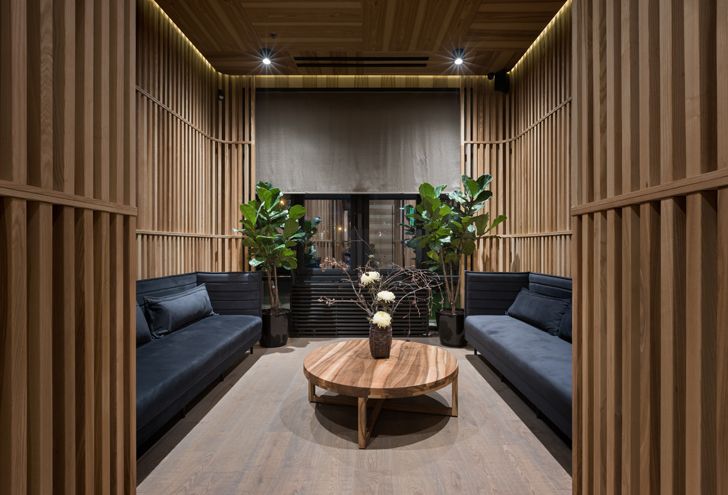 Add caption
Despite the large number of covers, the space ensures a serene mood and cosiness, diligently tailored with customised elements, working together to create a never-before ambience – one-of-a-kind, magical, that seems to silently beckon the diner to visit again, only to explore the space from another vantage point.
Client: Fujiwara Yoshihiro
Design Firm: Sergey Makhno Architects
Principal Designer/Architect: Sergey Makhno, Illia Tovstonog
Built-up Area: 800 sq. m. (8611.12 sq. ft.)