By Rutvi Ashar
Photography: W Workspace Company Limited; courtesy the architect
Read Time: 2 mins
.
Department of Architecture Co. designs the Little Shelter Hotel - a glittering lantern on the Ping riverbank – a modern reinterpretation of a glorious past, symbol of the present and an introduction to the future of Chiang Mai for its visitors…
Located at the crossroads of mainland South East Asia in Chiang Mai, the former capital of the ancient Lanna Kingdom, the contextual built form is designed as a representation of the traces of the old cityscape grandeur and its vernacular architecture, characterised by wood structures and shingle pitched roofs. The hotel sits close to the 700-year-old ancient city wall, its 420 sq. m. plot surrounded by large trees facing the Ping river on the west and a quiet alley on the east.
.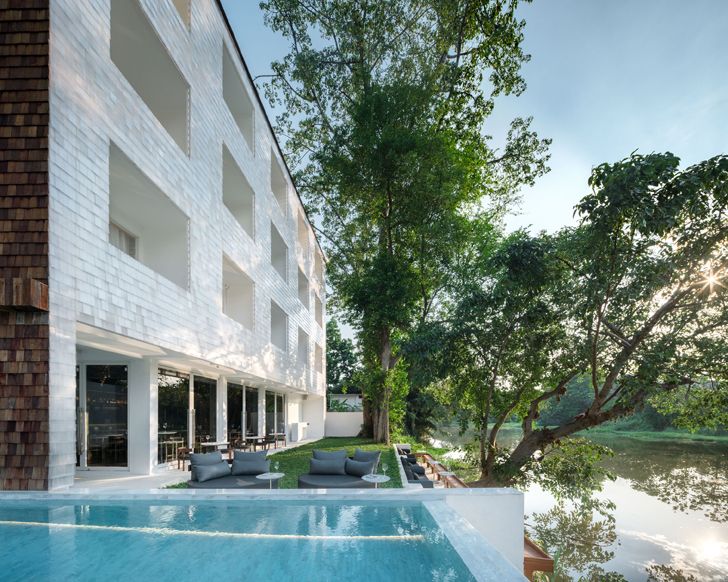 .
.
.
.
The built mass is conceived in a rather straightforward manner governed by the set-back and height restrictions. On the river-facing facade, polycarbonate sheets are cut into the same size as the wood shingles and put together using translucent studs and special transparent screws to make for a glittering facade. An interesting aspect is that this system of construction has been well developed for hundreds of years. Small units of wood shingles are laid out like fish scales becoming a watertight architectural plane. The façade allows natural light to stream in, creating varying interior atmosphere at different times with the changing conditions of the sky.
.
.
.
.
The interior spaces of the hotel complement the exterior simplicity. The white lobby-café area uses minimal materials to give the space a stark, gallery-like feeling that accommodates the 10-metre-high, custom-made installation inspired by the famous Boh–Srang umbrella. In contrast, the restaurant and bar are dark grey. Another design of umbrella installation on the entire ceiling creates dramatic silhouettes expressing a contemporary interpretation of the local handicraft.
.
The highlight of the Little Shelter is the 14 guest suites that appeal to various emotions: tranquillity, warmth, mystery, etc. suitable for a gamut of guest preferences. The designers achieve this by drawing the eye upwards, to the ceiling. Images of life in Chiang Mai such as its ancient city wall, floating lantern festival, Pah-Chor canyon etc., are placed on the entire ceiling – unique to each of the rooms. The images infinitely reflect onto the two long walls of the room clad with small mirror shingles, giving a sense of surreal seamlessness.
As a continuation of the local architectural character, Little Shelter Hotel highlights the past and uses present material and design sensibilities to create a contemporary architectural structure rooted in tradition…
Client: Little Shelter Co., Ltd.
Design Firm: Department of Architecture Co.
Principal Architect: Amata Luphaiboon, Twitee Vajrabhaya
Project Architect: Adhithep Leewananthawet
Architectural Design Team: Pitchaya Poonsin, Tanadeth Mahapolsirikun, Supavit Junsompitsiri
Interior Design Team: Yada Pianpanit, Apisara Lertrattanakit
Built-up Area: 890 sq. m. (9579.88 sq. ft.)
Location: Chiang Mai, Thailand