By Ar. Vinita Wagh
Photography: courtesy the architect
Read Time: 2 mins
'The Fourth Room' (inset) Ar. Fran Silvestre
Structured, yet flexible. Bold, yet minimal. Fran Silvestre Arquitectos presents a play of spatial configurations and functional aesthetics through the interiors of their latest residence, 'The Fourth Room'...
Each of the studio's projects illustrates their distinct architectural style - one that emerges from a formal design language, characterised by clean lines, sharp angles and uninterrupted planes; and is synonymous with understated elegance, structural verity, context sensitivity, spatial values and a minimalist aesthetic. These expressions resonate through 'The Fourth Room' too, shaping a project that identifies with the larger design vision and yet breaks new ground.
.
.
An open-block, multi-family housing building situated to the north of Valencia accommodates this residence. Sitting on its top floor, the house welcomes sprawling views of the city.
The design intention was to structure an additional space within that would orchestrate and harmonise the main living functions, and the areas surrounding it - the access, storage and the room extension into one, crafting a new space that allows the user to experience the house in different ways, transforming the everyday lifestyle.
.
.
.
.
.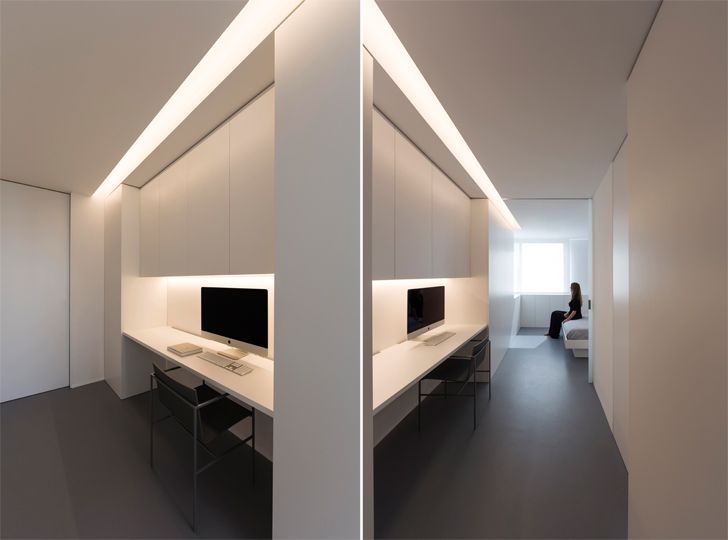 .
To optimise on the panorama and the design brief, a single space spread across the length of the residence composes these main programs, encompassing the living, dining and kitchen. This 'Day Area', unlike other rooms, boasts various window openings that pan across all three facades, taking advantage of the orientations, allowing cross ventilation and filtering light in. As the day progresses, the space alters with the incoming natural light, enabling the rearrangement of the space for the conception of the 'Night Area'. With structural elements integrated into partitions and cabinets, the unbroken space is free to adapt to the growth and needs of the family.
Lending a geometric expression to the interiors, the studio creates a setting bathed in sublime white that seems effortlessly modern and remarkably innovative.
Architecture: Fran Silvestre Arquitectos
Interior design: Alfaro Hofmann
Project team: Fran Silvestre | Principal in Charge
Gemma Aparicio | Principal in Charge
Built area: 112,29 sq. m.