By Beverly Pereira
Read Time: 2 mins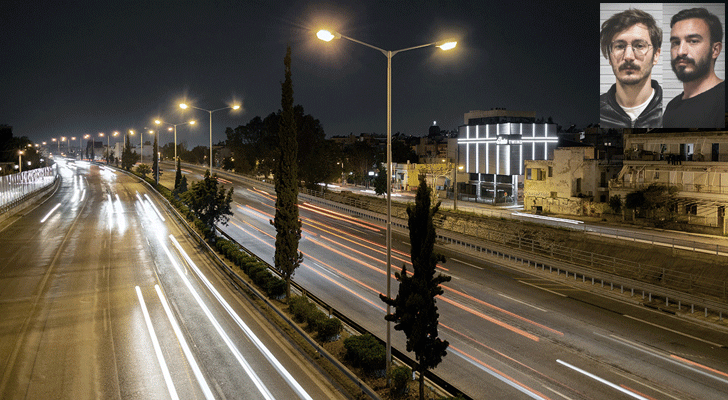 Devotion Twins_Headquarters in Athens (inset) Principal Architects, ADD Architecture Studio
ADD Architecture Studio taps its ingenious approach to lighting and spatial design to deliver an on-brand aesthetic for the headquarters of Greek fashion brand Devotion Twins in Athens.
It's hard to resist getting entirely enveloped in a dream-like state, when you enter the three-storey edifice that overlooks the Athens-Lamia National Highway at the busy junction of Lambrou Katsoni and Plataion street in the western suburbs of Athens.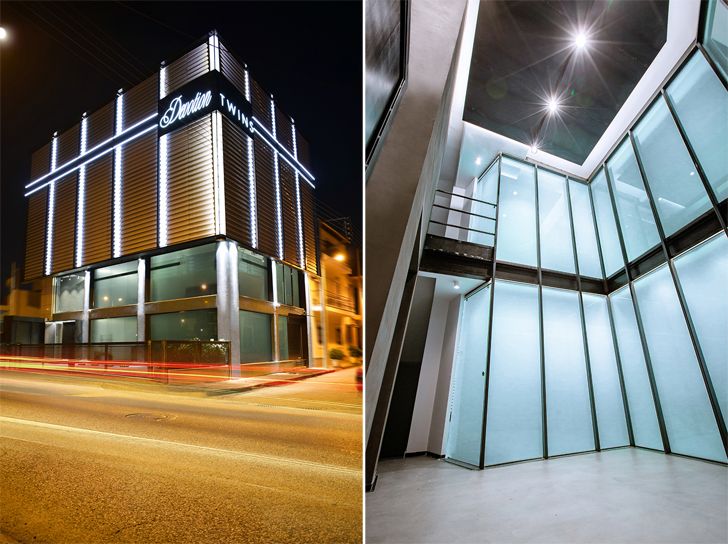 .
A double-height translucent glass surface shrouds behind it the fashion design and production process on the mezzanine and ground floor, whilst a public passageway leads to a portal of sorts on the floor above.
.
.
.
Following a 'room within a room' typology, and brandishing a sleek, sophisticated material palette of concrete cast flooring, Emperador marble, steel, velveteen couches and concealed lighting, you are led into the all-black meeting lounge; which in turn journeys on into a radiant all-white showroom – the two distinct spaces magically unified by a slender backlit steel cylinder on the roof contributing as an illusory design element.
.
.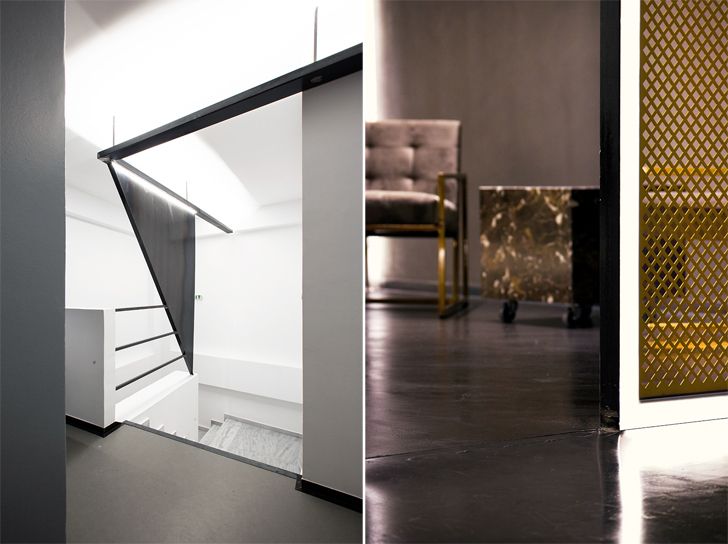 .

Hammered-finish tiling in light colours covers the flooring and hanger walls of the showcasing and sampling room, instantly setting it apart from the black lounge. Here, hangers and steel beams on the roof hold lighting spots that create a 3D grid. As a nod to the magical phrase 'as above, so below', ground hangers also serve as sources of lighting. The hangers, fittingly called 'dancers', revolve around themselves, displaying beautiful clothes as they put on a spectacular show of light.
.
Tucked away on the level above is a relaxing office highlighted by concealed lighting on luminous 'floating' shelves, a custom-made sofa seemingly supported by no base, cement flooring, and the occasional lushness of balcony plants.
But besides these strikingly handsome interiors, what really sets this building apart from its industrial neighbourhood is its arresting façade – clearly its highpoint.
Unusually inspired by the dynamic lights of fast-moving cars on the National Highway, the façade, wrapped in a double-layered system, fulfils the lighting needs of the building. The first layer - a louvered skin blocks natural daylight and acts as a general neutral background. The second layer is a steel structure of vertical and horizontal elements incorporating the brand's logo and serves as artificial night light.
During the day the steel structure resembles a foreground, a screen silently facing and watching over the city. But during night-time, the structure gets activated creating a three-dimensional lighting spectacle which captures the eye of the driver as it matches perfectly the fast, dynamic movement of cars on the Highway.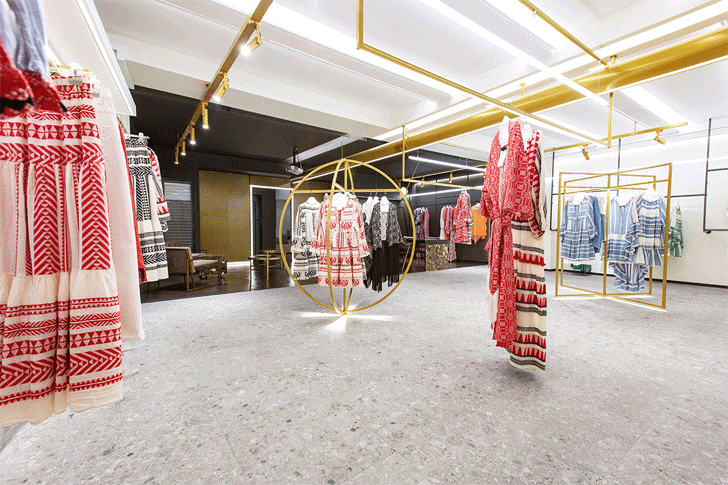 .
With every aspect of the interior custom-designed for the project, the strength of the design lies in great attention to detail and thinking out of the box. Inside and outside, the architects chisel a cohesive and exemplary design vocabulary.
Design Firm: ADD Architecture & Design Studio
Scope of project: Architecture and interiors
Location: Athens-Lamia National Highway, Athens, Greece
Project Duration: September 2018 - January 2019