By Ar. Vinita Wagh
Photography: Jonas Bjerre-Poulsen; courtesy Norm Architects
Read Time: 2 mins
.
Conscientious attention to details and a predominantly sepia palette guides the interior architecture of Bella, the first of the Y/Yachts model Y7, designed by Norm Architects and manufactured by Michael Schmidt Yachtbau…
Designed in collaboration with the US naval designer Bill Tripp and assembled in Greifswald, Germany, the 70-foot, ultra-modern yacht has architecture that centres around the essentials – easy handling, safety, comfort and performance – redefining luxury sailing and competitive regatta experiences that superyachts are famous for.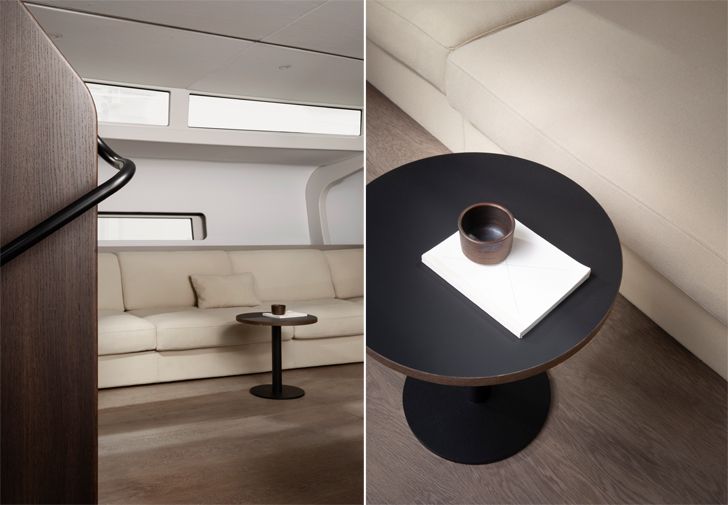 .
.
Complementing the graceful exterior, the internal construction aligns with and follows the natural curves of the ship, engineered through a simpler framework. Its modular design helps adapt the internal layout to the needs of the user, allowing integration of cabins, a walk-in closet, the galley and an option to even rearrange the VIP suites. Minimalist aesthetics and materiality compose the interiors, translating across the sweeping surfaces onboard, while carefully factoring in the vessel's build norms. Security requirements are met through elegant, built-in furniture that appears otherwise.
.
.
The result is a cocoon of warmth and exclusivity that creates a subdued, yet dramatic impact, harmonised through the implementation of tactile surfaces, natural materials and matte finishes. Adding to its elegance, is the evident craftmanship of the walls, panels, lighting and furnishings. The lighting, especially the subtle lamps inbuilt into the shelves and cabinets augment the calm, cosy and mood-based setting; the built-in wooden elements showcasing the dexterity of the craft. With seamless frames, the doors highlight crisp details, free of disruptive elements.
.
.
.
Wood, veneer, and papier stone finishes, smooth and coarse-woven textiles and hardware in blackened steel add visual weight to the room. Their contrasting textures play off one another's characteristics and communicate a striking dynamic. The yacht's linear layout lays emphasis on spaciousness through tone-on-tone colouring, lending a crisp neutral palette to the interiors - breaking spaces and yet allowing them to easily flow into one another.
Giving expression to interiors that not only reflect the yacht-makers values, but also build an identity synonymous with luxury superyachts, the vessel leaves a distinct mark amidst its contemporaries.
Design Firm: Norm Architects
Design Team: Peter Eland, Linnea Ek Blæhr
Contractor: Michael Schmidt Yachtbau
Location: Greifswald, Germany