By Ar. Vinita Wagh
Photography: Philippe Ruault'; courtesy the architects
Read Time: 2 mins
.
Henning Larsen's Hangzhou Yuhang Opera House resembles ice floes, as its dramatic peaks and distinctive profiles appear to cut through East Lake's glassy surface.
Perched at the edge of East lake, it draws connections from Hangzhou, forming the heart of a new cultural node in China's Yuhang district. Designed in collaboration with Hangzhou Architectural & Civil Engineering Design Institute Co., Buro Happold Engineering, Bassinet Turquin Paysage and AECOM, the 70,000 sq. m. opera house offers not just a space for performance and events, but also forms an urban centre, complete with a diversified and activated public realm.
Bird's-eye view rendering@HenningLarsen
Rendered section @HenningLarsen
The East Lake, part of the firm's winning proposal, plays a crucial role, forming a gleaming backdrop for the new Opera and mirroring Hangzhou's famed West Lake – a geographically contrasting node. A meandering promenade circles the lake, passing through small pocket parks, including a traditional Chinese water garden and commercial facilities.
.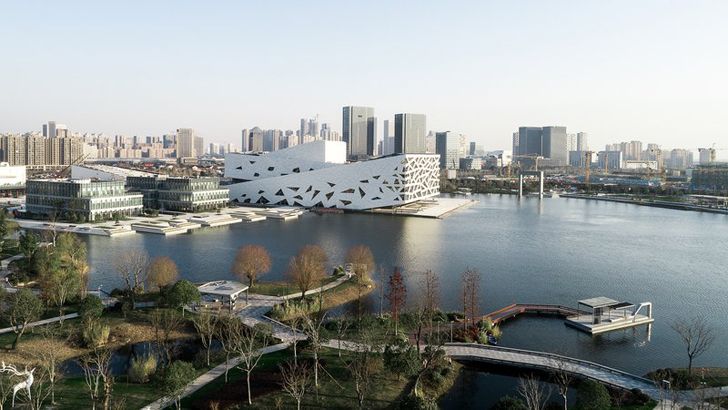 .

Inspired by 3000-year-old mysterious, gigantic, sloping landforms of the Chinese Civilization found in the region, the roofs of the opera recreate similarly elevated, publicly accessible vantage points above the surrounding lake and landscape. The forms – two sloped and intersecting masses, dominate the scenery, sitting above an elevated public plaza, with their roofs slightly touching the ground. Crafted out of UHPC panels and glass, and referencing ice cracking on a frozen lake, a graphic façade pattern wraps the mass in gradual transparency as it encloses the foyers to craft a bright interior. Inner balconies and staircases leverage views across the site and foyer, while the peripheral external pathway looks upon the lake.
.
.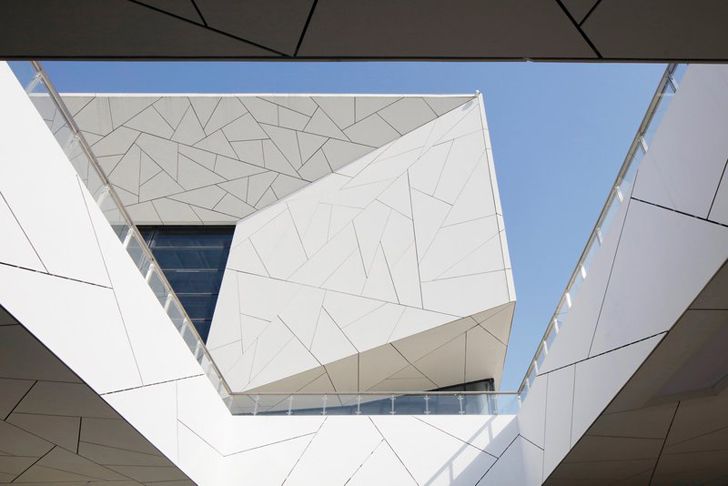 .
.

The venue houses a 1400-seat multipurpose auditorium, a 500-seat Black Box theatre and an exhibition centre, among other facilities. The miscellany of events governs the acoustic and stage design. The Black Box theatre configures to open to the waterfront plaza, forming a stage for a massive exterior venue. Though complex in design and of conflicting requirements, this multi-configurable venue constitutes an iconic landmark.
Initiating regional development of the Yuhang district, this Opera House sits at the crossroads of the city, nature and its ancient cultural legacy.
Project: Hangzhou Yuhang Opera 杭州余杭大剧院
Client: City Government of Yuhang District in Hangzhou
Architect: Henning Larsen
Location: Yuhang District,Hangzhou, China