Info: Courtesy OKHA
Compiled by Team IAnD
Photography: Niel Vosloo| Peter Bruyns| Adam Letch| Melissa de Freitas; courtesy OKHA
.
Interior design and bespoke furniture studio OKHA defines the dynamics of this waterfront home with a charming ambience that spells quiet opulence…
OKHA's latest interior project, Clifton 301, is a seasonal two-bedroom apartment in a sophisticated contemporary complex designed by SAOTA. Flanked on either side by Table Mountain's legendary Twelve Apostles, it looks out over breath-taking panoramic views of the Cape Atlantic Ocean and is in equal parts luxurious getaway, relaxed coastal retreat and entertainer's dream.
.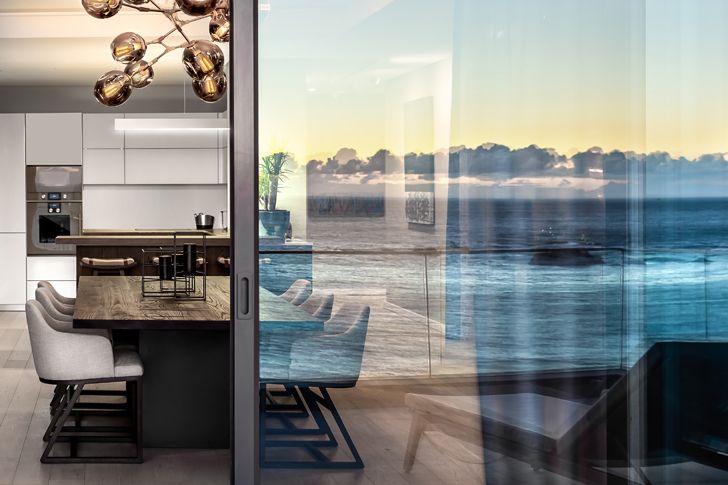 .
Complimenting the architectural vocabulary of a deliberately pared-down, monochromatic shell, the designers modulate the interior colour palette to create a cool and restful space in contrast to the bright, sunlit exterior. Subtle shades of green with delicate natural tonalities reference the local landscape and vie for attention with Table Mountain's famous granite, fynbos and dappled woods. The rich, raw palette of natural timbers, stones and metals are contrasted with plush velvets and linens on the walls, floors and furniture coverings evoking a sweeping statement of chic restraint throughout the apartment, embracing the ever changing colours of the sunrise and sunset.
.
.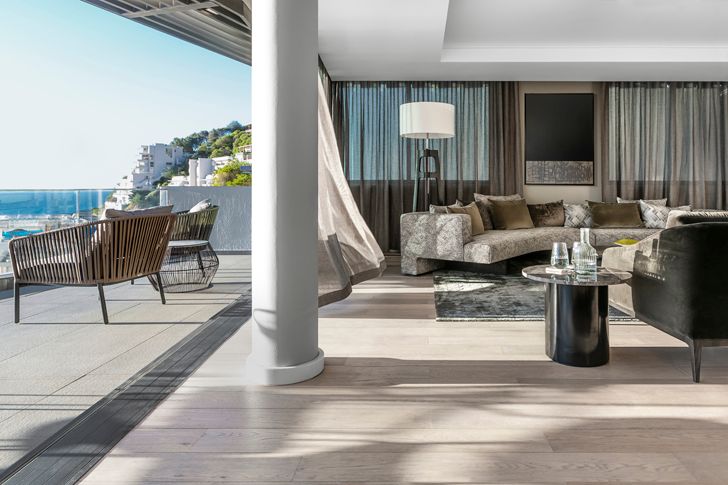 .
.
One sees a strong emphasis on textures and materials as designs are pared-back and lean, focussing on strong forms and shapes that communicate simply and directly. Dream Emperor Marble and Absolute Black Granite tabletops are paired with steel bases in
the side, coffee and balcony tables. The dining table, barstools and server are hewn from carbon-stained wire brushed Ash timber, also used in the frame of signature OKHA "Port" mirror, which, with its copper framed recessed mirror carries a nautical tone of a ship's circular windows. All the art, accessories and objects are from Cape-based artisans and add an essential level of layering and local character.
.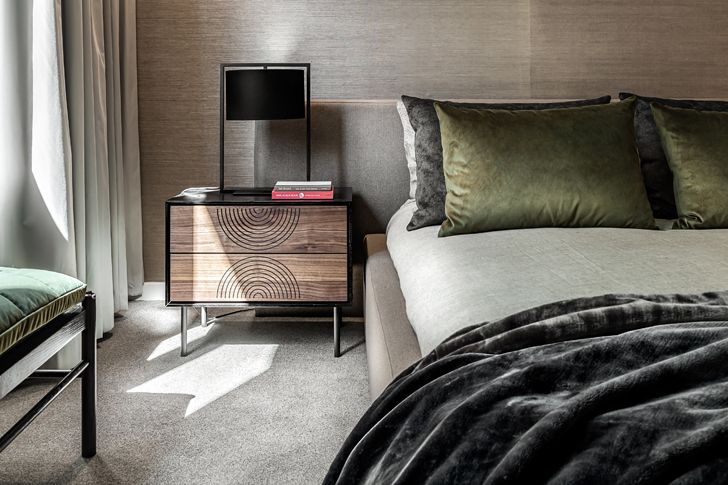 .
.
The highlight of the apartment is its positioning around the panoramic exterior. "You feel as though you are hovering right above the water's surface", sums up OKHA director, Adam Court.