By Beverly Pereira
Photography: Courtesy the Artist
Read Time: 2 mins
©Adam Kalinowski
A rainbow-hued sandpit in Tilburg, Netherlands, is redefining the idea of competitive sports for both - the player and the spectator.
Sitting in the city centre of Tilburg, the sports sandpit that officially opened to the public at the Kaapstad Festival in August 2019, is in a constant state of flux.
©
JostijnLigtvoetFotografie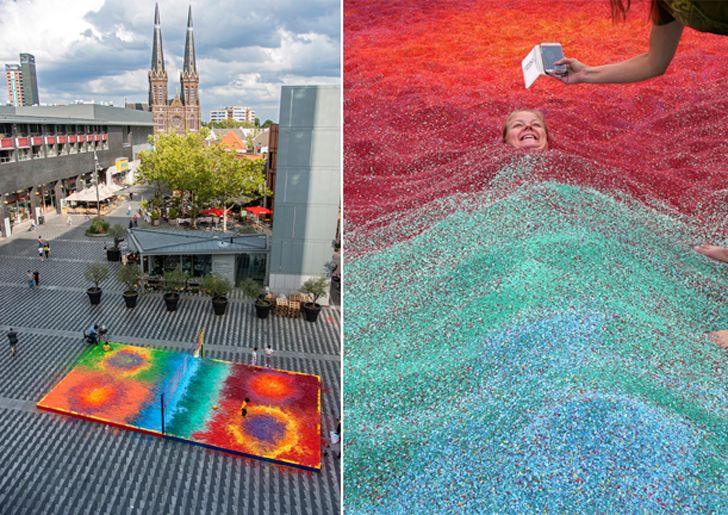 ©Adam Kalinowski
Polish sculptor Adam Kalinowski, known for his experiments with coloured sand, once again attempts to decode human psyche and social behaviour. His interactive installation titled Pitch of Coloured Sand is a striking example of the meeting of design, sports like volleyball and sand football, and public art in an urban setting.
©
JostijnLigtvoetFotografie
©Adam Kalinowski
Ahead of the project launch, the multi-coloured sand was arranged into a series of concentric circles using a wide range of quartz starting from 0.5-mm to 5-mm granules to turn this visually stunning project into a tactile experience. As the game proceeds, different patches of coloured sand gradually mix in a manner comparable to the passing of white light through a prism. New patterns, textures, shapes and a range of new shades of colours take form, constantly contributing to a changing pitch-scape.
Players become active participants by contributing to the transitory nature of the sandpit's surface. In this sense, even the spectators of the game become participants in this social experience as they witness the real-time progress of the ever-changing surface of the pitch.
©Adam Kalinowski
©Adam Kalinowski
Drawing from two art movements of the sixties - the Fluxus and the Happenings, Adam's concept, like the two movements, seeks to bring art to the masses and to involve the viewers via a participatory endeavour. Experimental in nature, this entropic project focusses on the process of creating, as opposed to placing importance on the finished product.
©Adam Kalinowski
©Adam Kalinowski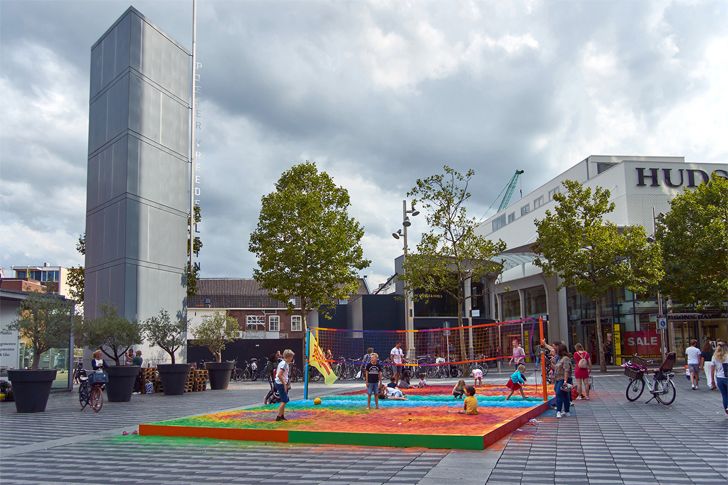 ©Adam Kalinowski
Ever since the sports pit was opened to the public, its surface has remained in a constant state of flux. Like his earlier participatory sand-based installations, this one too ensures that no two matches will be the same. Competition itself gets playful, which exaggerates media's footage and possibly increases interest on a wider scale.
Another more significant aspect - is a real and metaphorical impact over the city landscape that truly represents the right entropic attitude.
Project: Pitch of Coloured Sand
Materials: colored aggregates, marine plywood, net, balls, paint.
Dimensions: 1400 x 700 x 220 cm.
Location: Tilburg, Netherlands