By Marina Correa
Photography: Alberto Cosi
Drone shots: Markus Roselieb; courtesy the firm
Read Time: 2 mins
.
Situated between Lamyai tree orchards and rice fields against the backdrop of northern Thai mountains, Chiangmai Life Architects (CLA) designs an earthy and sophisticated home rooted in context…
The client wanted a home made from natural materials, but in a modern avatar, and approached CLA, whose forte is sustainable living without compromising on the paraphernalia of contemporary lifestyles.
They began by using adobe brick walls in combination with wooden roof structures, designed according to traditional Thai architecture, having openings for ventilation under the top part to induce air circulation as the hot air rises.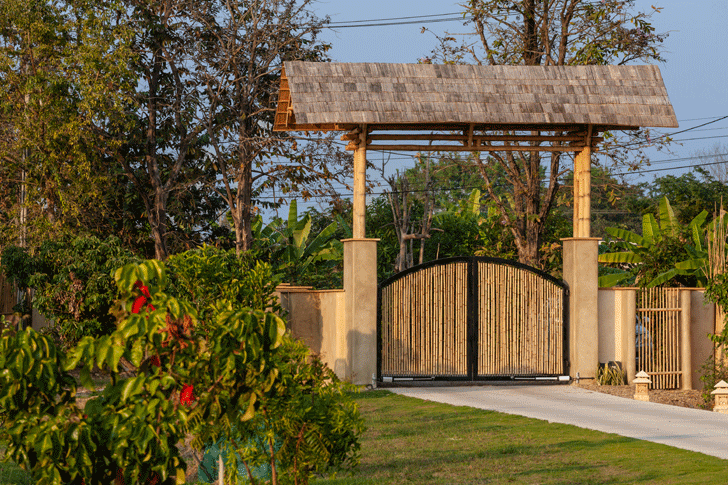 .
This in turn, allows the communal areas to rely completely on natural ventilation as well as the natural materials' inherent thermal insulation capabilities for cooling helps save energy costs for air-conditioning, which is then only relegated to the bedrooms.
A well-thought out simple yet effective material palette adds brilliance to this project. For instance, all wooden elements are left exposed to show off the beauty of imperfections in the timber, thus keeping it as organic as possible.
Similarly, use of local clay, sand and bamboo shavings lend a certain texture to adobe bricks, but the finishing is done so smoothly that it is difficult for an untrained eye to distinguish earthen walls from conventional ones — making it the highlight of the project. Lime mixed with fine earth powder achieves a strong and water-resistant outer coating, making it a sustainable alternative to concrete.
Meant for a nuclear family of five, the house has a private wing comprising four bedrooms – three for the kids and a master bedroom. At the heart of the home are the social spaces - the living room, dining, kitchen and an entertainment zone featuring a pool and table tennis table.
.
.
.
.
.
An outdoor pool with the periphery of the house forming the deck area facilitates a beautiful indoor-outdoor connection as does the mezzanine gallery (above the dining area) offering a sweeping view of the surrounding landscape. It has been culled out as home cum office and reading space. On the other side of the common area is a free-standing guest cottage having its own sunset veranda.
.
.
.
Tying all the areas together are the natural stone tiles that provide great cooling and are comfortable to touch. Further reducing the carbon footprint and adding a local touch is the garage, barn and entrance gate, which are all made from bamboo – truly making this an eco-friendly residence that harmoniously coexists amidst nature.
Design Firm: Chiangmai Life Architects
Principal Designers/Architects: Markus Roselieb (Principal), Tosapon Sittiwong (Partner)
Built-up Area of project: 7492 sq.ft.
Location: Chiang Mai, Thailand