By Ar. Vinita Wagh
Photography: Didier Boy de la Tour; courtesy Serero Architects
Read Time: 2 mins
Bayeux media Library ©Didier Boy de la Tour
(inset) Ar. David Serero ©Loran Dherines
The Bayeux Media library façade by Serero Architectes Urbanistes is a strong, inescapable visual metaphor, as it stands facing the dense city centre of Bayeux, France.
Characterised by high energy performance using interior stone volumes, all-glass facades and abundant light sources, the media library design builds connections to the exteriors. Minimal, modern and transparent, the building draws from the city's urban and historical context as it rises on an open plot connecting the historic centre with the town's future development zones, creating splendid views of the cathedral.
.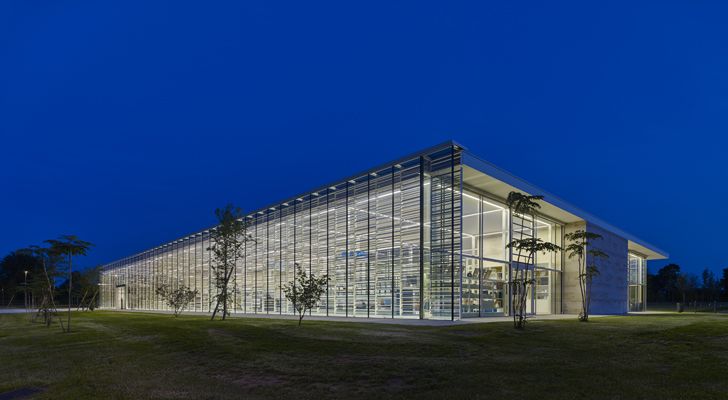 .
.
.
The building's ingenuity lies undoubtedly in its north façade, or the 'embroidered' filtering skin, that regulates the visual and luminous ambiance that fills the volume within. Forming a filter between the noisy boulevard and the quiet interiors, the skin works in tandem with the overhanging roof of the south façade, controlling heat gain. Three layers of structural glass panels, 5m high, renders the façade free of structural columns.
The façade references the 11th century Queen Mathilde Tapestry, a woven and embroidered fabric – one of a kind, explicitly linked to the city's past. Abstracting this Bayeux Tapestry, the architects translated the semiotic elements stitched into the fabric, onto the 450 sq. m. expansive facade.
.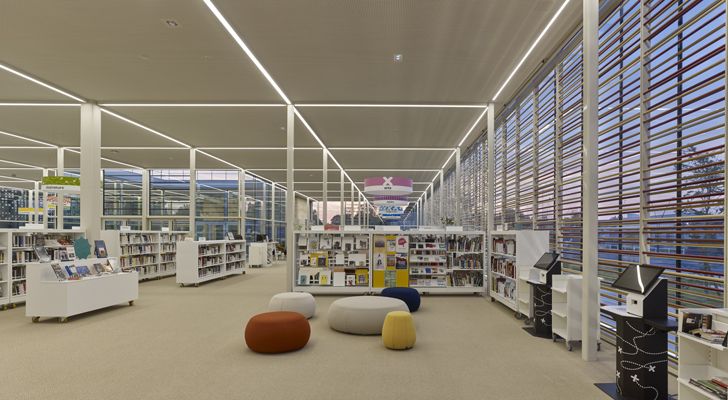 .
.
.
Owing to its sheer scale, the resourceful technical process to achieve this abstraction is impressive. Mapping one scene of the embroidery along 80 meters of facade length using high resolution colour proofed photos of the old tapestry, the architects reproduced the complex illustration by way of tubes in tinted, natural colours of beige, brown, bronze green, blue-black, deep blue and yellow. Representative of the yarns of the fabric, the glazed façade creates a coloured panorama against the landscape.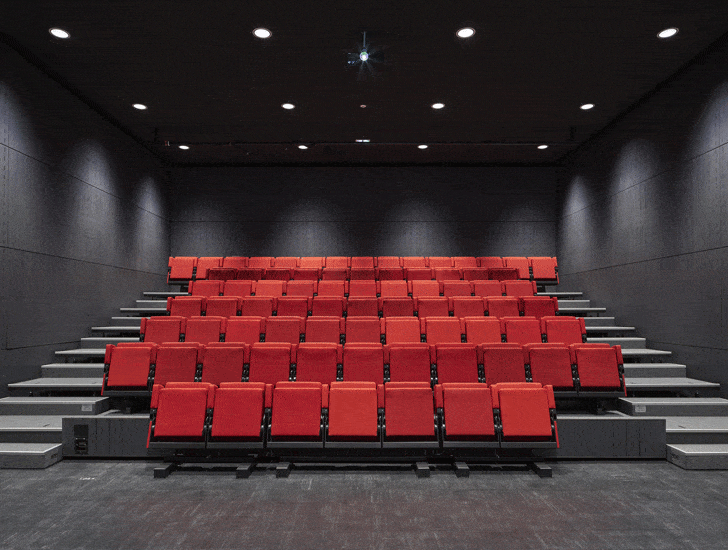 .
Lionising the city's history through the architecture of this contemporary structure, Serero Architectes Urbanistes reaffirm Bayuex's identity.
Program: Bayeux Media Library
Project Management: Serero Architectes Urbanistes (lead architect, furnishing assignment, interior design)
Surface Area: 2 550 sq. m. (27448 sq. ft.)