Compiled by Pari Syal
Photography: Liu Che Chun; courtesy Whyixd
Read time: 1 min 30 secs
.
Kinetic flowers sway to seasonal melodies in this building lobby in Taiwan as art weaves a new narrative to engage audiences and heighten the contextual aura of the edifice…
Art establishes a strong communication; irrespective of its genre and type, of it being decorative or message driven. And at times, based on the subject and the theme to be conveyed, three-dimensional art has a faster and greater impact than two-dimensional works of art.
Heaven Bloom is one such easy-on-the-eye, captivating and a tad intriguing work of art that essays a contextual thematic. Positioned in the lobby of a building by Golden Jade Development Corp. in Taichung City, Taiwan, which follows nature as its conceptual theme, the installation poses as a large organic expanse made from 140 mechanical metal flowers dancing to background music.
.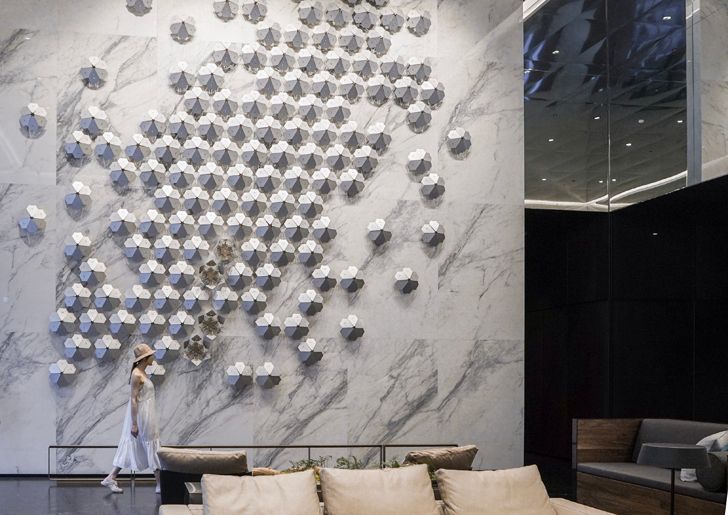 .
.
Conceptualised and designed by a cross-field art installation design team from Taiwan, Whyixd, the installation is a take-off from a special plant called Nanhu Rhododendron (Rhododendron hyperythrum Hayata), which only grows in one of 100 mountain peaks in Taiwan: "Nanhu Mountain". The Nanhu Rhododendron stands apart for its adaptive nature in extreme climates on high mountains. It appears rusty yellow before it blooms; however, when in full bloom, the flowers appear like white snowflakes all over around the mountain peak.
.
.
Using aluminium and stainless steel, and motors for its mechanical operation, each flower of size 340-mm x 330-mm x 120-mm, when closed, opens to a size of 340-mm x 360-mm x 160-mm in full bloom. The flowers are set to four different melodies corresponding to the four seasons – the ambient sounds collected from endemic species in Taiwan. Different patterns and movements allow the blooming flowers create a near-natural mesmeric scenario indoors, freezing moments in time, building a simulation of a unique phenomena in nature.
.
The installation is the highlight of the lobby and is engaging and hypnotic in all its metallic splendour. It alludes to the ultimate vitality that symbolises the spirit of the Taiwanese as a race.
Name of installation: Heaven Bloom
Client: Golden Jade Construction
Sound Design: Ami Tseng, Hsu Tzu-Chuan
Direction & Editing: Liu Che Chun
Location: Taichung City, Taiwan