Compiled by Ar. Sivashankari Ramamoorthi
Photography: cepezed | lucas van der wee
Read Time: 2 mins
.
Design studio Cepezed and Cepezedinterieur envisage an energy neutral, flexible design for Archive Depot Amsterdam Noord that renders the building circular and removable, contributing to a holistically sustainable solution…
Depot Amsterdam Noord - the new repository for the city's archives houses municipal archives right from 1811, the time when Napoleon introduced the Civil Registry! It spans a gross floor area of 2,665 sq. m. with 45 linear km of shelf space. Designed as a functional and efficient building, not open to visitors, its architecture is minimalist and its space planning optimum.
.
.
Circular design
Two massive halls, each 12m high constitute the archive spaces that host ceiling-high filing cabinets partitioned by wooden panels instead of structural storeys, which not just minimises use of material, but makes an important contribution to circularity.
The building has a completely different set-up, composed of detachable and removable parts that are prefabricated and largely have standardised system sizes. Since the walls are not cast in situ, there is less moisture in them – a fact conducive to archive climate. The cracks between the concrete slabs are rendered airtight and the facades are finished with sandwiched panels.
Energy-efficient climatic concept
An energy-efficient climate is achieved by applying an airtight, highly insulating shell combined with minimal ventilation and a concrete floor, which is not insulated, but is in direct contact with the ground below it, providing a passive heat and cold storage facility: natural warming in winter and cooling in summer with adjustments required only during the extreme conditions. The facade and roof carries over 1600 sq. m. of solar panels generating surplus energy, which is supplied back to the electrical grid. The entire building is set up with BIM model for efficient maintenance and management.
.
Robust aesthetics
Accessed via a narrow courtyard at the rear, the entrance gate is camouflaged into the external façade which is a monobloc-like, completely flush, anthracite-coloured prefabricated steel structure that can be easily dismantled. Looking fierce and robust, it is almost completely closed from outside; characterised as it is by a dark, façade with a horizontal band of solar panels in the middle with three red Andreas crosses from the Amsterdam logo.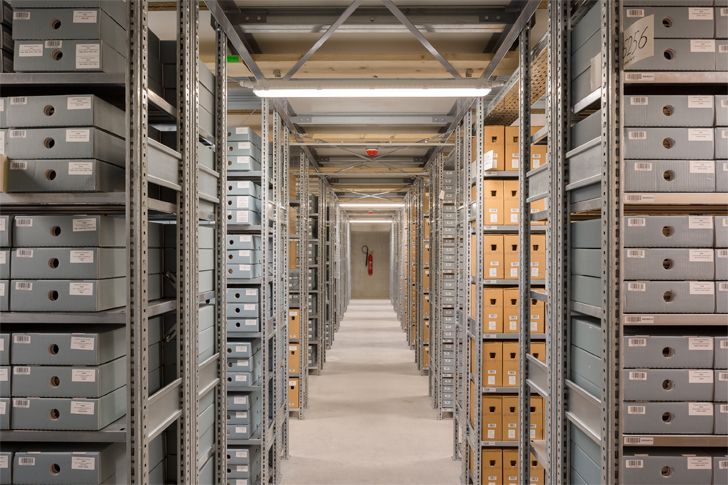 .
With top-of-the-line features such as predictive maintenance, standardised barcode-efficient archiving, optimised access systems, and a minimised maintenance system in place, the building itself can further act as a material donor for other buildings in the future.
Project: Depot Amsterdam Noord
Client: Municipality of Amsterdam
Architect: Cepezed Architectural Office, Delft
Interior Architect: Cepezedinterior, Delft
Location: Stadsarchief Amsterdam