By Ar. Vinita Wagh
Photography: Tamara Uribe; courtesy Workshop Arquitectos
Read Time: 2 mins
.
Filux Lab, the colonial house-turned-art laboratory celebrates the ethos of the artistic community, its white aesthetic emblematic of the blank canvas so vital for stimulating a work of art…
Located in the city of Merida, Yucatan and restored by Workshop Arquitectos, the compact 200 sq. m. space of the 'International Festival of Lights, Mexico' sits at the intersection of artists, experts and the public. A global icon of artistic expression, Filux Lab champions discovery, experimentation and the exhibition of cultural projects that stem from light and cinema, while empowering coexistence and research.
.
.
.
.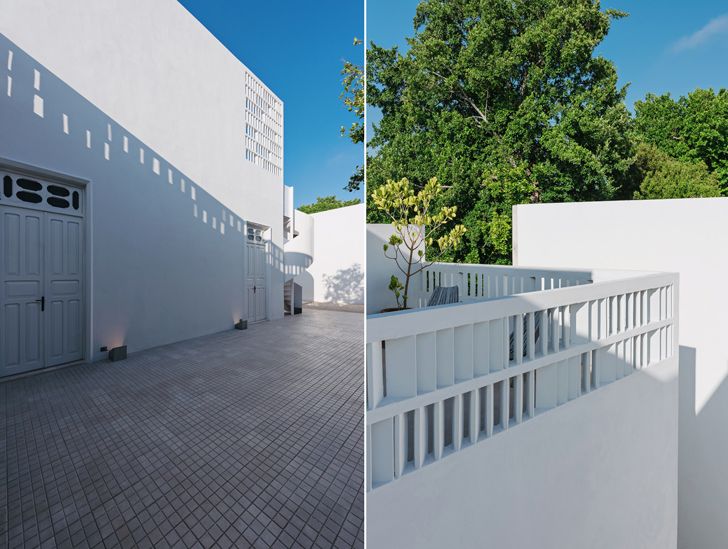 .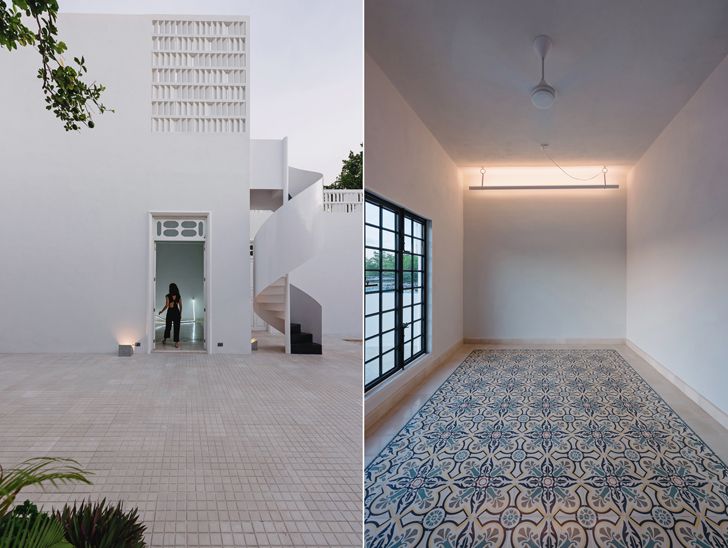 .
This versatile space is simultaneously a gallery and a workshop. Designed to adapt to its changing use, the architectural elements and neutral colour tones serve as an experiential canvas for artistic interventions – both on the inside and the outside.
The immaculate structure is a work of art - marked by an almost inconspicuous quality at first, holds its own and highlights the exhibition pieces, transforming with every light installation. The back esplanade, modern and bold, steps away from traditional Yucatecan colonial architecture. A sculptural spiral staircase graces the rear façade, its elegance framing the esplanade. The high walls, mouldings and lattices in the walls offer opportunities for experimentation with projections and lighting. The sunlight too, draws geometric patterns of lights and shadow on this exterior, while the inner luminous glow at night highlights the features of the façade.
.
.
Inside on the ground floor, the five rooms of the original structure reconcile the old and the new through flooring interventions – the original pasta floor carpets and antique white colour mosaics creating a seamless transition. With flexible lighting, these spaces are dynamic, evolving at a moment's notice.
Setting the stage for a novel sensory experience at the threshold of these white doors and high walls, the project urges one to transcend beyond the obvious, and into the universe of light.
Client: FILUX Mexico, International festival of lights
Architecture Firm: Workshop Diseño y Construcción
Design and Construction Team:
Francisco Bernés Aranda and Fabián Gutiérrez Cetina
Alejandro Bargas Cicero and Isabel Bargas Cicero
Lighting designer: Luca Salas Bassani
Gross Built Area: 200 sq. m. (covered area)
Project location: Merida, Mexico