By Ar. Vinita Wagh
Photography: Huang Ligang; courtesy the architect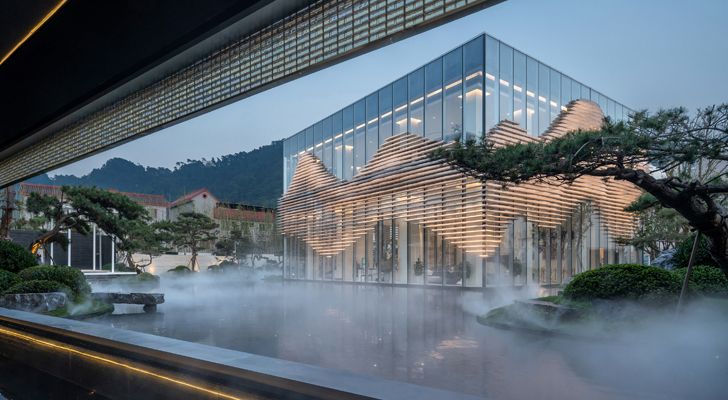 .
The architecture of the Shanxiao Sales Pavilion casts a poetic presence, echoing Nanshan's tryst with culture, underlining the unison of man and nature, and the solitude found in the latter.
Abundantly endowed with natural scenery and a cultural landscape, Nanshan, in Chongqing boasts a wealth of tourism resources. Where mountains and trees cover thousands of miles, the city has become synonymous with artistic and cultural connotations - its architecture elegant and introverted, yet nuanced.
.
.
.
.
The 1026 sq.m. space, designed by AOE Architects, reflects a modern technical language and artistic creation techniques - small scale, elegant and delicate. Surrounded by a water body and islands of green, the architecture deeply resonates with the sense of beauty one experiences within the scenic, secluded space. Undulating façade louvers wrap its sides, the overarching shape drawing inspiration from the clouds of Nanshan. Protecting from sunlight, the perforated aluminium plates emulate a landscape painting as they stretch across the curtain wall, changing form. The fog adds another layer to the structure, creating a visual wonderland. Together, the glass wall, louvers and the mist build the image of an ethereal structure floating in the clouds.
.
.
.
Driven by scale, open space and neighbouring habits, the design of the commercial architecture is relatable, symbolic of returning to one's roots. Bringing into perspective the greatness of the surroundings beyond, the scale of the structure establishes a dialogue between people and nature. The white façade mimics the colour of the traditional dwellings, blending in with the natural environment, the play of light and shadow lending a dramatic visual aesthetic.
Hidden amidst nature, the Shanxiao Sales Pavilion is a tranquil cultural expression.
Project Name: Shanxiao Sales Pavilion, Chongqing
Lead Architect: Larry Wen
Design Team: Liu Chen,Li Pengyong, Niu Zhuojun,Yang Kaiqi
Engineering: Chongqing Changxiaanji Architectural Design Co., Ltd
Project location: Chongqing, China