By Ar. Vinita Wagh
Photography: Courtesy the architects
Read Time: 2 mins
.
Mexico's Anáhuac Cultural Centre is a magnificent venue, its 15400 sq. ft. of space dedicated to the strengthening of cultural life at the Universidad Anahuac.
The Centre is part of the University's North Campus, completed with the alliance of the architecture firm, Grinberg + Topelson and the interior design firm, Broissin. Portraying a strong cultural expression by supporting the artistic formation of diverse activities, the Centre is a multifunctional space allowing for conferences, concerts, dances and operas. It includes a theatre, vestibule, sculpture space, rehearsal rooms, dressing rooms and offices.
.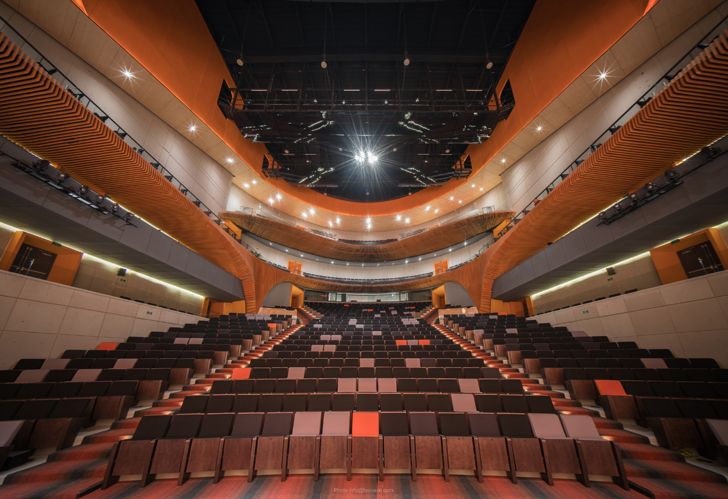 .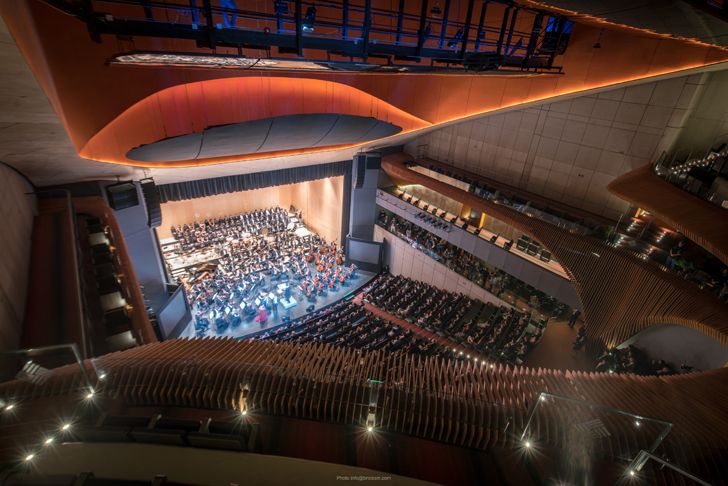 .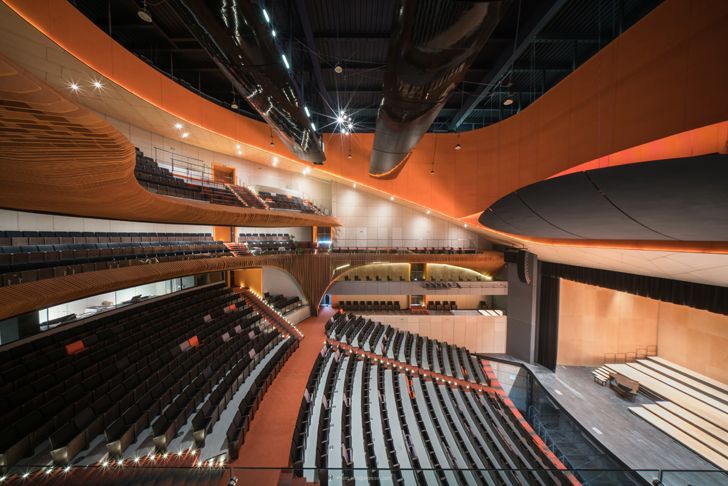 .
The 'Ángel and Tere Losada Theatre', with a capacity of 1300, is the magnum opus of the complex, modelled to present any international manifestation of the Fine Arts. It dons a unique architectural identity that aligns with the campus' context – a rectangular prism with a glazing of aluminium and glass on its exterior and a concrete central structure. Crowned by a roof that seems to float above it, the exterior body's solid and light character lend a fresh personality that resuscitates the modernist and rational style of the campus.
.
.
.
The interior organic parametric forms originate from the triple height vestibule. With the structural walls in concrete, the same parametric morphology gives way to the rafters, handrails and borders of the lateral balconies. An orange ring supported by the maple wooden ceiling crowns the underside of the roof, mimicking the university's colour. The tapestry of the chairs in dark colours, with brushes of orange, complements the avant-garde interior, lending personality to the space – distinctive, yet unifying the complex. Inspired by the theatre icon - the masks of comedy and tragedy, the diffuser in front of the proscenium takes the shape of a laughing and inconsolable mouth, when seen from the orchestra seating and the superior balcony respectively.
.
.
.
From its impactful design of wooden waveforms, to the subtle details that reinforce its connection to the university, the complex – and not just the theatre, is an architectural icon that stands proud.
Project: Centro Cultural Mexiquense Anahuac
Client: Universidad Anáhuac
Architects: Grinberg + Topelson & Broissin
Architects Team: Sara Topelson, José Grinberg
Interior Design: Broissin
Interior Design Team: Gerardo Broissin, David Suárez
Stage Mechanics: Chemtrol / Juan García
Acoustics: Jaffe Holden / Russell Cooper
Structural Engineer: Colinas de Buen
Location: Huixquilucan, Mexico