By Ar. Vinita Wagh
Photography: Ng Siu Fung; courtesy the designer
Read Time: 2 mins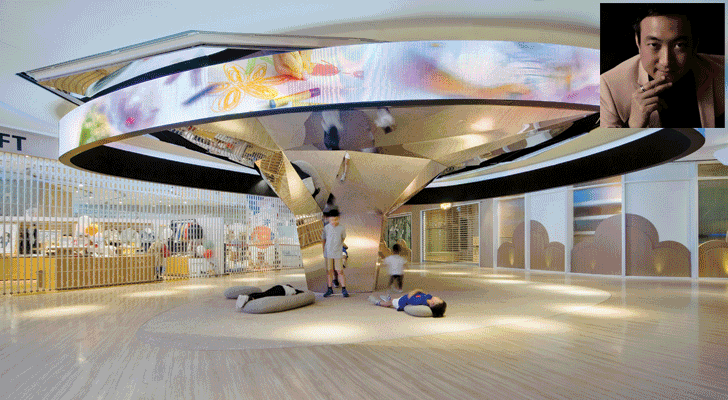 K11 MUSEA Donut Playhouse (inset) Founder-Designer, Panorama Design Group - Horace Pan
Conceived by Panorama Design Group in central Hong Kong, the K11 MUSEA is a kids' shopping arcade cum playhouse – the very first of its kind.
The K11 MUSEA Donut Playhouse is a study in psychology, weaving a distinct narrative and culling out an exclusive spatial experience as it binds together colour and emotion.
Locker Room & Lift Lobby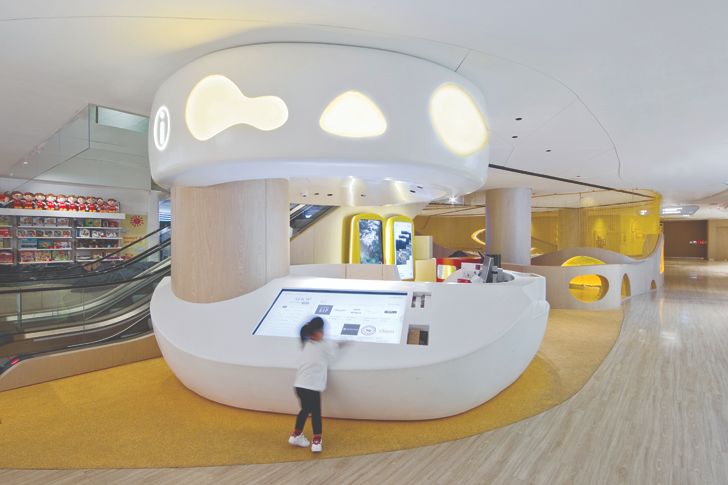 Concierge
With an aim to create an arcade that transcends reality, the firm designs the edu-shopping centre to spark imagination and playfulness. Covering an area of 2000 sq. m., the three-storied structure creates a surprising first impression as it steps into the basement that comes alive with abstract forms and unmistakable colour.
Plan
Sketch
The design follows an open plan, with three demarcated zones – the 'body', the 'mind' and the 'soul', each evoking a visceral reaction that encourages a unique action. The simplistic viewpoint of a child informs their creation. Manipulating the basic elements of a point, line and plane, the zones take on a minimal, organic character to allow exploration while enhancing physical, mental and spiritual growth.
Play Zone
Family Cafe
The 'body' suggests the active and energetic zone, comprising of a play area and a family café. Bathed in bright yellow, it stimulates joy and vigour, enhancing muscle coordination and development in children.
Mind Zone & Entrance
Mind Zone
The 'mind' represents focus and restfulness – a learning hub that accommodates workshops and lessons. The green landscape resonates with memory building, while the flexible furniture enables varied activities and draws interest.
Classroom
Soul Zone
The 'soul' zone prompts creativity and expression, taking the form of a mirror-finished tree that acts as a display device. A digital ring displays the artwork created by the children, indulging them through multimedia content.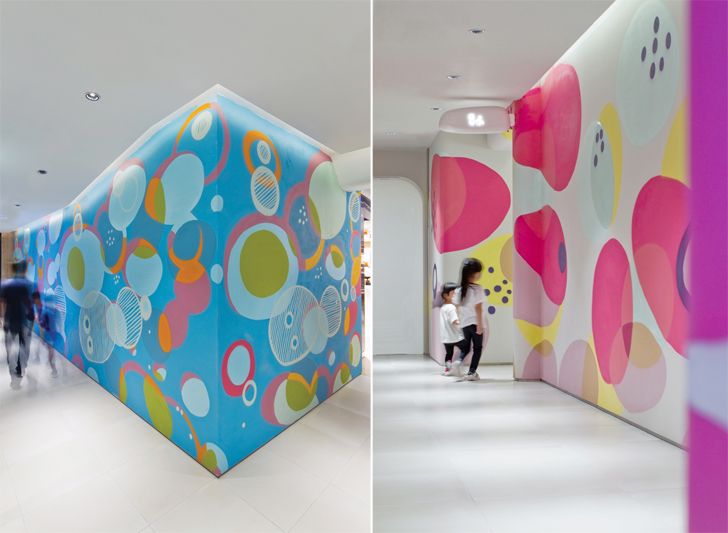 Way-finding - boys and girls washrooms
Washrooms
Public facilities like the concierge, washrooms, seating and directory cater to both adult and child ergonomics. The ground and the basement also connect with slides! The playhouse is a user-friendly, fun experience that builds closer human bonds, manifesting a child's exciting, innocent imagination.
Project name:K11 MUSEA Donut Playhouse
Client: New World Development Company Limited
Interior design:Panorama Design Group
Design Director:Horace Pan
Design Team: Wendy Lam, Rachel Wong, Katy Lau