Photography: Courtesy the architect
Read Time: 2 mins
.
Designer Mamoru Maeda capitalises on prime commercial space by re-purposing a wasted storeroom into a trendy eye-catching restaurant space in Vietnam…
This pint-sized 3.7 sq. m. space on the second floor of the existing "Japanese restaurant Robata Dining AN" in downtown Ho Chi Minh City stands transformed from a storeroom to a private dining space. Looking onto La Thanh Ton Street bustling with restaurants, clubs, bars, massage parlours and hotels – the dining spot does more than its bit to revitalize the entire downtown area.
Before
After
The refurbishing exercise addresses an oft-observed pattern across Japanese outlets overseas, where a mix of local and Western customers frequent a restaurant especially if managed by a foreigner. To attract similar gentry into this Japanese-managed eatery, the design invokes enthusiasm and excitement. Envisioned not just to enhance the value of the restaurant through façade modification, but to impact the pedestrians below and draw their eye, the design incorporates art elements and a pop of colour.
Through artwork that presents an amusing take on the ancient Japanese ritual of 'Harakiri', the compact room displays an Instagram-worthy backdrop. The art follows the thematic of 'Tonosamat's Harikari', an old castle boss expressing the sorrow of dying in his palatial room.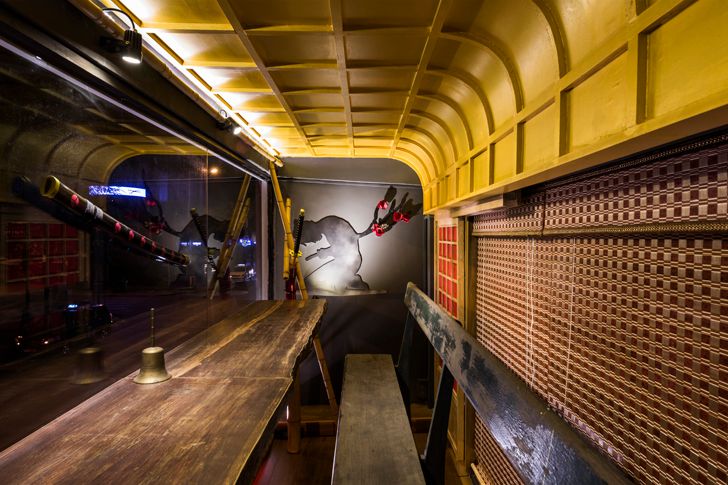 .
Tonosamat references the ancient feudal lords, and Harikari, the ritual of suicide by stabbing in the stomach with a sword. A bold palette plays out the legend, where gold depicts richness, red LEDs symbolize blood and indicate sadness, while broken bamboo takes the place of the sword - portraying this rather terrifying visual through an attractively wholesome graphic.
No matter the size, this space has the potential to engage and activate the surrounds, to create a synergistic effect not just within the restaurant but from the street below. With this restaurant, Mamoru Maeda touches on an interesting concept that is sure be a trending hit.
Project Name: Japanese Restaurant Robata Dining AN
Principal Designer: Mamoru Maeda 
Constructor: Ryuichi Vietnam
Location: Ho Chi Minh City, Vietnam