Photography: courtesy the designers
Read Time: 2 mins
.
Rooted in Ukrainian contemporary style, Sergey Makhno Architects design the Manna apartment as a sanctuary from harsh external stimuli, offering peace and serenity through its soft landscapes…
The inhabitants take centre-stage here - anchoring the deliberately layered interiors. The minimal style weaves together art and the Japanese Wabi-Sabi philosophy that celebrates simplicity, transience, elegance, and the virtue of natural objects. The apartment exudes an atmosphere that enables reconciliation with chaos and the illogical order of things – teaching one to understand, accept and live on in harmony.
.
.
.
.
.
The 223 sq. m. apartment forms a free canvas, with imperceptible thresholds that allow spaces to fluidly merge into one another. The monochrome aesthetics in natural shades and varying textures ground the space, creating coherence.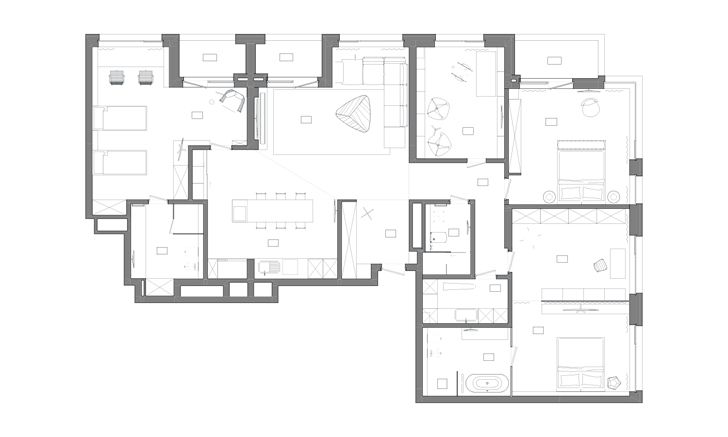 .
While the living room is a cocoon of cappuccino walls, it is the wood, ceramics, and carpet that usher in the warmth. The kitchen makes a statement with the suspended ceramic lamp. The rooms are devoid of the superfluous, embracing the Wabi-Sabi laws as well, the designer 'tetrapod' tile imparting an accent to the space. Its rhythmic silhouette and composition form an arresting visual, brought to prominence by the low-level furniture.
.
.
.
The use of natural wood and milky shades realize comfort, while the unique textures, clean lines and forms render the appreciation and awareness of all things earthy and unpretentious. Offsetting the serious, natural look are green plants and the occasional shades of grey, adding a lightness to the space. The infusion of the family spirit elevates the classic design.
.
.
Sophisticated and almost effortless, the interiors draw a fine balance between the exceptional and the everyday, lending new meaning to the prosaic.
Design Firm: Sergey Makhno Architects
Designers: Serhii Makhno, Oleksandr Makhno