Compiled by Pari Syal
Photography: Elaine Fancy; courtesy v2com
Read Time: 2 mins
.
Canadian design studio gh3* reinvents old-world charm by designing a luxurious fine-dine with a bespoke hand-made ceiling as its pièce de résistance …
Since its opening in 2019, Arthur's Restaurant has become one of the most notable new restaurants to appear on the Toronto dining scene in recent memory. Designed by gh3* and fabricated by Unique Store Fixtures, the space features an intimate lounge and bar area in addition to the main dining room, which features a stunning octagon ceiling with a centre dome as the main focal point.
.
The spacious dining room with its radial seating arrangement attracts eyeballs almost instantaneously and spoils one for choice with its different seating options. Padded and tufted low-height partitions are an intriguing design feature as they form private enclosures, metaphoric of being by yourself in the open. In fact, the design elements tend to play heavily on paradoxes, where the dining room is open to the outside via large floor-to-ceiling windows letting in plenty of daylight; whilst its seating is organised into cosy get-together spaces.
.
In the same vein, the ceiling takes on the complete onus of the design, faceted with wood veneer, each panel hand-crafted, its resulting geometry like cut crystal hanging above the diners, with the materials used providing an intimacy by their subtle detailing. The octagon's centre dome is constructed out of bronze patina, which draws the eye inward, while at the same time housing the lighting and mechanical details.
.
.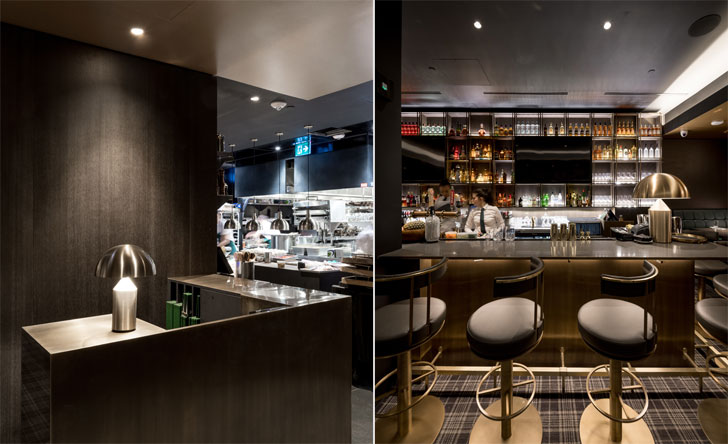 .
Bronze is also used throughout much of the space, including in the bar and lounge area, which features a welded bronze tartan display used to house bottles and glasses. In addition, the solid bronze panels in the main dining room bar are all hand-painted to create a bespoke finish and add a decorative accent throughout the large dark space.
The bar and lounge stands out for its unique chequered flooring and emerald green upholstery that are a perfect complement to the bronze accents. The overall schematic is an ode to innate wealth.
The exceptional design and execution have garnered critical acclaim. Unique and gh3* have recently received two notable awards: The Gold 2020 Shop! Design Awards for Restaurant Fine Dining and the Silver for A'Design Award and Competition Interior Space and Exhibition Design Category Award.
Client: Chase Hospitality Group
Concept and interior design: gh3* - Pat Hanson and Shawna Seligman
Fabrication: Unique Store Fixtures
Location: Toronto, Ontario