Photography: Spaceshift Studio; courtesy the architect
Read Time: 2 min
The Commons Saladaeng (inset) Architects Amata Luphaiboon & Twitee Vajrabhaya
Nestled in Bangkok's vibrant 'Saladaeng' neighbourhood is The Commons Saladaeng, an urban lifestyle project by Department of Architecture Co., standing true to the city's context, climate and roots.
'Saladaeng' – translating to 'red pavilion', takes its name after a small historic train station that featured a red gabled roof. The 3000 sq. m. project serves the community and honours this past through its architectural expression.
.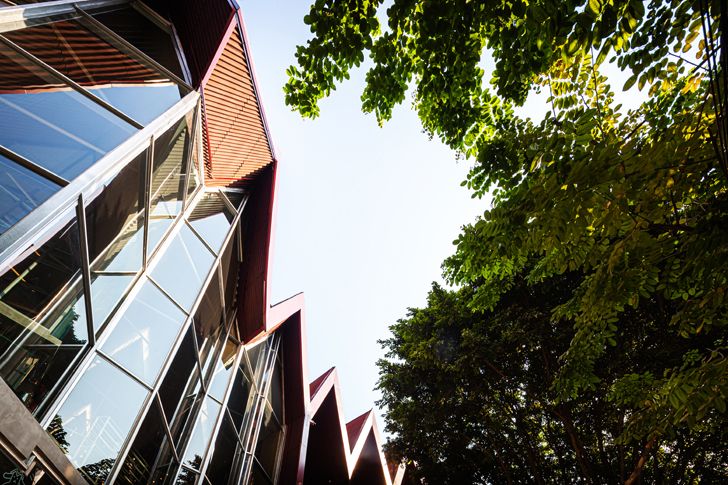 .
.
.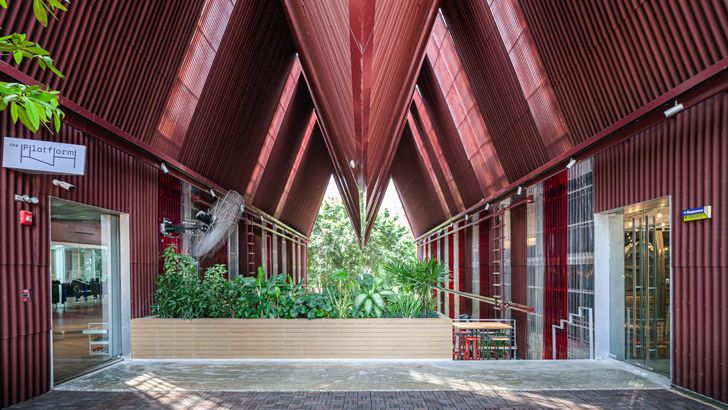 .
The dynamic roof, characterised by eight small gables set in an M-shaped framework, negotiates between the sentimental scale of the past and the functional scale of the present. Featuring crimson coloured corrugated sheets of varying transparencies, the roof adds a layer of visual complexity onto the structure's simple form. Hinting to not just the roofing material of the past, the canopy caters to acoustics as well.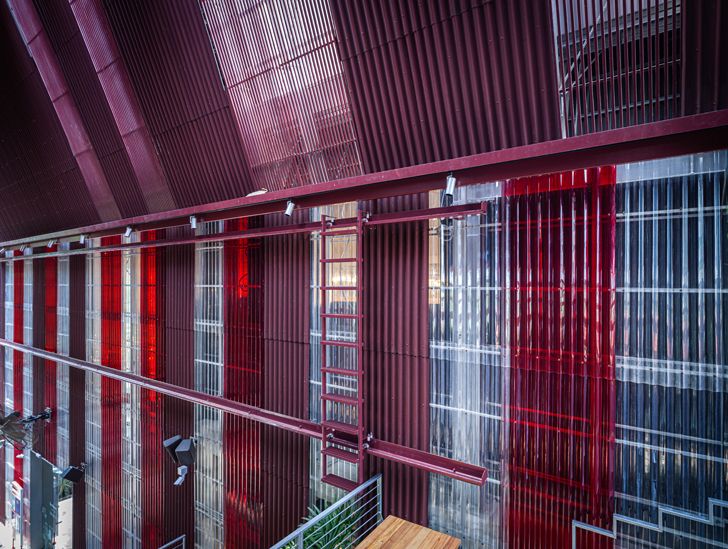 .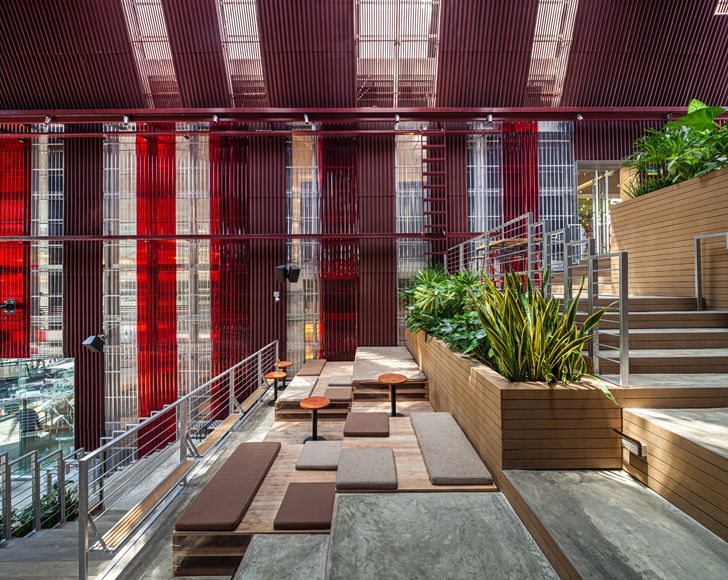 .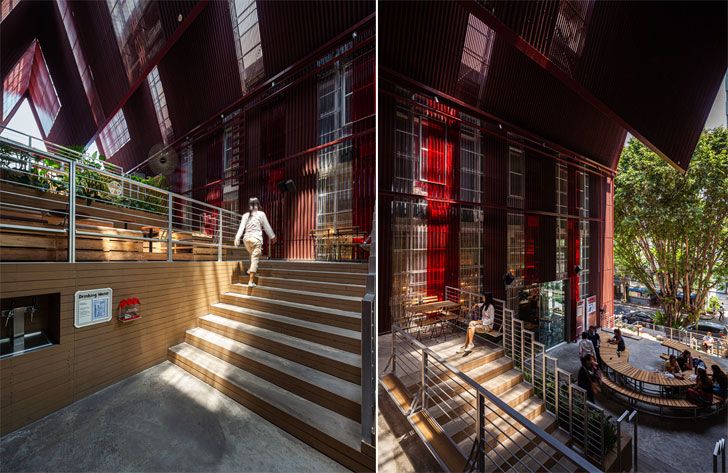 .
.
A large, 15m high Ficus tree takes centre-stage at the entrance, coercing the building façade to curve around it. The tree visually screens the public space – the 'Common Ground', that lies beyond, offering privacy. Culled out from the volume, the open-air space orients itself towards the tree. Occupying 30% of the building footprint, the 'Common Ground' connects the street to the floors and activities above by way of large steps, platforms, seating, and planting. Made of a special pallet unit system, the space is a modifiable groundscape, the system allowing transformation of the cascading steps into different configurations. Small flat areas, staggered steps, platforms or even a large stage – the space adapts to and organises into infinite combinations for markets, performances, workshops, movie screenings, exercises and much more!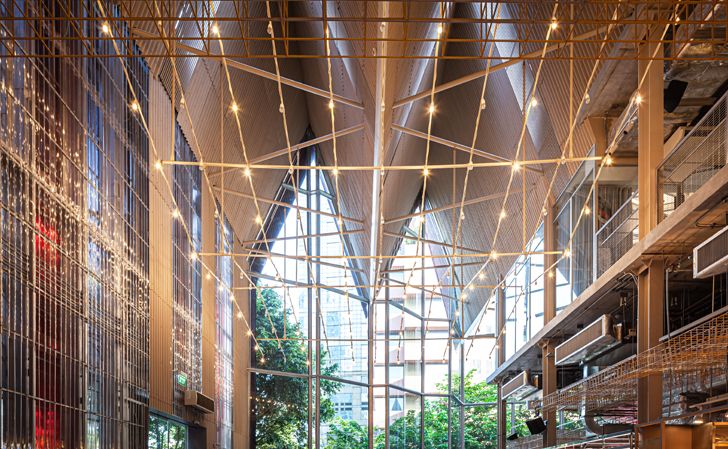 .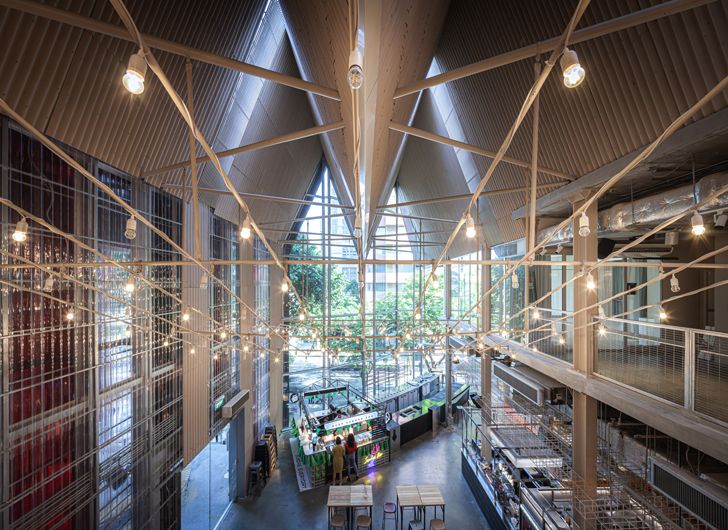 .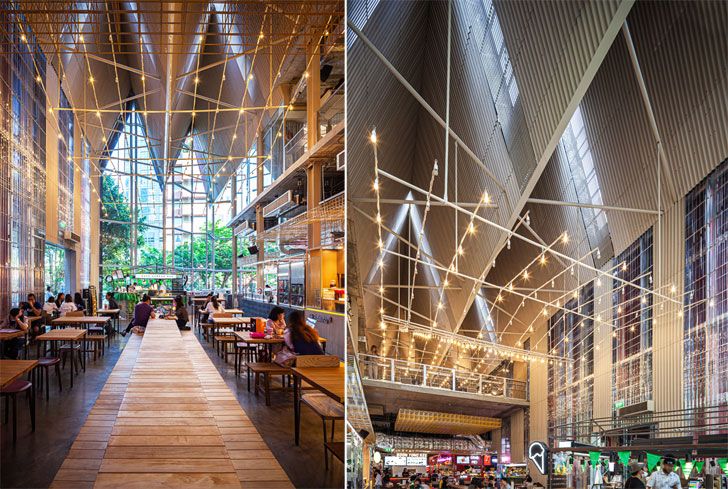 .
.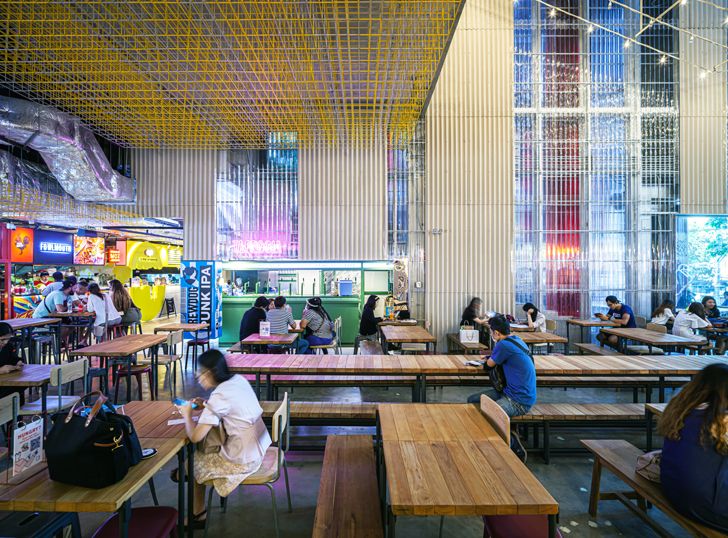 .
Embracing a shared economy approach as a driving force of space planning and innovation, 'The Platform' divides the time of a single space rather than the space itself. Large industrial fans generate laminar flow, offering a comfortable microclimate in the otherwise high-density CBD.
Acknowledging the limitations of space, this commercial F&B venue adapts itself to the life of the community, establishing a strong bond between the people and the place.
Project: The Commons Saladaeng
Typology: Commercial Building
Client: The Commons Saladaeng Co.,Ltd.
Architectural Design: Department of Architcture Co.
Principal Architect: Amata Luphaiboon, Twitee Vajrabhaya
Project Architect: Chanlika Boonpha
Design Team: Tanadetch Mahapolsirikun, Monthon Patcharapunyapong,
Supavit Junsompitsiri
Hardscape Designer: Department of Architcture Co.
Softscape Designer: Patom and Suan Sampran
Lighting Designer: ACCENT Studio by Nopporn Sakulwigitsinthu
Location: Bangkok, Thailand